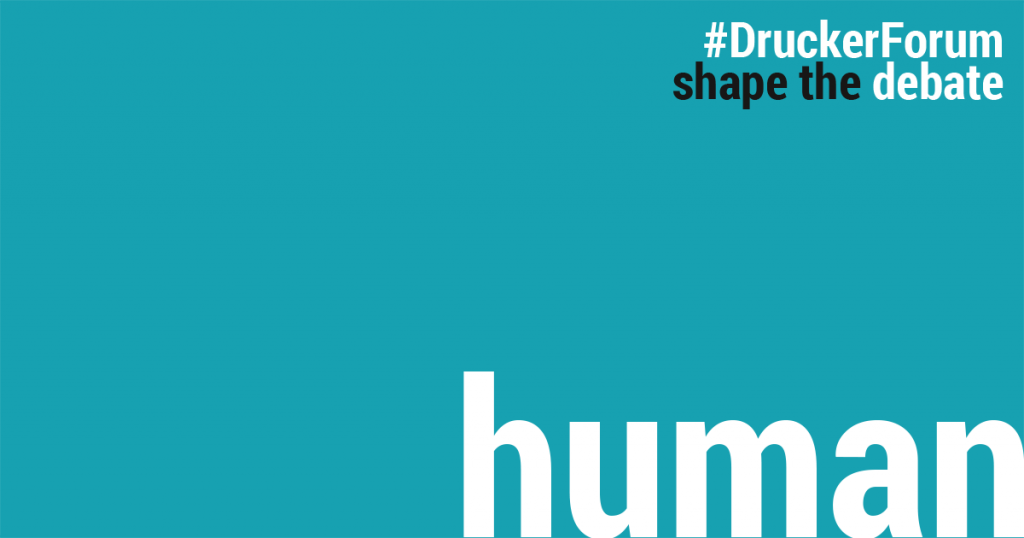 The Covid-19 pandemic continues to be one of the biggest challenges in recent history for management and leadership. In March 2020, at the onset of the outbreak, Microsoft CEO Satya Nadella declared that as a society we had undergone two years' worth of digital transformation in two months. Other well-known leaders like Jeff Bezos of Amazon and Cisco's John Chambers expressed similar sentiments. What's more, each of these leaders emphasized the need for enterprises to take a human-centric approach: augmenting and adopting new governance mechanisms in a manner that puts people first. This is the meaning of the human imperative in today's digital age.
The human imperative requires a dedicated focus on ethics, sustainability and responsibility – and it has never been more important than in our rapidly changing, dynamic and uncertain digital era. For management and leadership to succeed in the new economy, enterprises must reinvent themselves to operate on the basis of ethical principles and the UN's Sustainable Development Goals (SDG) guidelines that ensure the safety, care and optimization of processes for workers. As new technologies such as AI invade the marketplace and human interactions are increasingly virtualized, it will become ever harder for management to ensure that employees are kept out of harm's way unless proper safeguards are put in place. The way in which a leader implements the human imperative in management terms will be a defining moment in a business's history. Here are four actionable insights on how firms can achieve this goal.
1. Adopt ethical guidelines
Ethics has become a hotly contested topic in the wake of mass artificial intelligence adoption by leaders across organizations. Back in February, Google controversially fired two of its top ethical AI researchers for reported violations, a move that showed enterprises around the world the importance of getting ethical technology practices right. After many staffers protested, Google determined to revamp its ethical codes to ensure that no rights are infringed on in the future. Management across industries must follow suit and adopt ethical guidelines not only so that employees feel valued, but also because it boosts employee morale and productivity. When people come first, the organization is made stronger.
2. Focus on SDGs
The UN's 17 SDGs, launched in 2015 as part of its 2030 Agenda for Sustainable Development, have become a priority in the post-Covid enterprise world. According to Reuters Events, 60% of companies are integrating goals such as Decent Work and Economic Growth, Responsible Consumption and Production, and Industry, Innovation and Infrastructure into their organizations as central to their human-imperative strategies: they help to build organizational resilience by fulfilling internal and external stakeholder needs, creating more sustainable economic models that benefit employees and customers, and making a smoother transition to 'super-smart' Society 5.0.
3. Emphasize responsible innovation
A framework for responsible innovation is crucial for leveraging the human imperative. The pandemic has shown leaders that taking accountability for events and creating new solutions go hand in hand. It is reasonable to suggest that the connection between responsibility and innovation can actually aid in upholding trust in an organization's ability to create beneficial social outcomes for internal and external stakeholders while reaching and even accelerating innovation milestones. In addition, with the prioritization of SDGs, responsible innovation should be leveraged by leaders to enact positive societal impact and to underline that companies are truly considering the role that new products, services or economic models take on in society.
4. Make advancement about the people and address bias
The last and arguably most important part of the human imperative for management and leadership is making advancement about people. Organizational objectives and solutions should be deployed with optimization of human processes in mind. For example, leaders intent on launching AI projects must ensure that algorithms are utilizing inclusive data that covers employees of all demographics to drive equitable outcomes. Moreover, since data bias inders management innovation objectives, it has become an important topic to address. According to True Office Learning:
Employees at large companies who perceive bias are nearly three times as likely (20% vs. 7%) to be disengaged at work. Gallup estimates that active disengagement costs US companies $450 billion to $550 billion a year.
Bias impacts retention. Those who perceive bias are more than three times as likely (31% to 10%) to say they plan to leave their current jobs within a year.
Bias obstructs innovation. Those who perceive bias are 2.6 times more likely (34% to 13%) to say they have withheld ideas and market solutions over the previous six months.
By making advancement about the people, organizations can actually increase revenues by devising more accurate solutions while simultaneously addressing costly data bias.
In conclusion
The post-Covid digital age has redefined the role of the management and leadership in carrying out the people-first approach. The human imperative means outlining new guidelines for ethics, responsibility and SDGs to elevate enterprise goals and objectives for global citizenry. For businesses to stay relevant and competitive in the new economy, the time has come for all leaders and management to take this approach to heart.
About the Author:
Angelica Sirotin is co-founder of the Digital Pioneers Network AI Think Tank, venture entrepreneur, and serves as a digital/emerging technologies and economics advisor to agencies worldwide.
This article is one in the "shape the debate" series relating to the 13th Global Peter Drucker Forum, under the theme "The Human Imperative" on November 17, 18 & 19, 2021.
#DruckerForum