by Julia Kirby and Richard Straub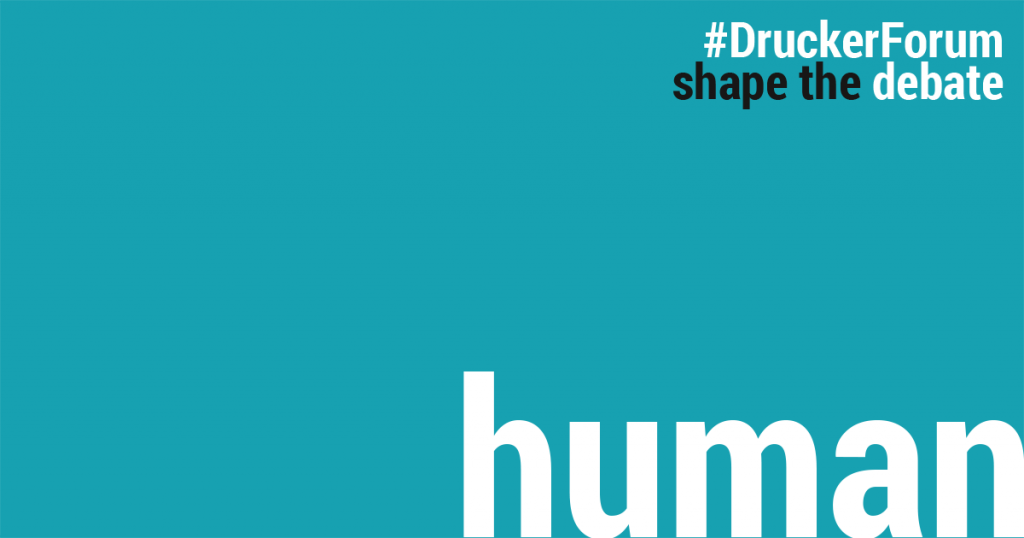 As exponentially advancing digital technology transforms so much of work and the world, questions inevitably arise about the place of the human being. Some warn of a diminishing role for the human, such as in decision-making, starting perhaps with the simple tasks now performed by chatbots, but soon enough in more creative problem-solving. It is easy to imagine technology's superhuman powers – its advanced algorithms, deep learning networks, and other AI strengths, its Blockchain dynamics, big data processing, and so forth—taking us inexorably toward the Singularity Ray Kurzweil envisions.
The questions are all the more urgent given the rate of change around us. It's true that the future is always uncertain – remember the old quip, "prediction is difficult, especially about the future" – but today we are faced with heightened, and seemingly increasing, turbulence. Many look to technology to provide the confidence needed to navigate through uncertainty.
Yet there is a countercurrent emerging that calls for reasserting the human role. The experience of cities and nations responding to the COVID-19 crisis has emboldened these voices, as it highlights the human creativity and judgment essential not only to balance competing social and ethical priorities but to accomplish scientific breakthroughs and overcome logistical challenges. The same countercurrent is rising inside organizations where "data-driven" decision-making so often falls short of the sound judgment that, however tainted by cognitive biases, combines science with common sense.
As economic, fiscal, cultural, and political crises escalate in the wake of pandemic, the tension between the technocratic and the humanistic forces is reaching a breaking point. The former see a time of upheaval as an opportune moment to effect a large-scale "reset" to a system currently flawed in many ways. The latter reject any such revolutionary redesign as inimical to human nature which craves, as Peter Drucker put it, a balance between "change and continuity." Which is the best way forward, and how can we ensure that it prevails?
Leading thinkers at our 2021 Forum will grapple with important questions including but not limited to the following:
Must there be a human imperative at the core of organizations? How would we define it? What threatens it most today? How could good management serve it better?
Forced to make decisions under highly dynamic conditions, should organizations rely more heavily on data and analytics? What are the risks of moving away from human judgment?
Do we need better ways of discovering truth and thinking through the complex issues of our time? What insights should we take from philosophy, psychology, and other realms to prepare our minds for the age of AI?
What should we hope for—and fear—in the aftermath of a year of remote working? Will less in-person contact become the norm? How might human beings as social animals and community builders respond?
What lessons can we take from the Covid-19 crisis about the clashing perspectives of scientific experts, policymakers, business leaders, and ordinary citizens and workers—and how they should be prioritized or integrated to best serve the needs of humanity?
As in every time of upheaval, some today say we should not let "a serious crisis go to waste." But is seizing the chance to enact sweeping change a humane impulse? What can we learn from the history of sudden revolutions, whether political, cultural, or organizational?
Central to the human condition is the ability to learn from evidence and experience—both our own and others'. How is it, then, that human organizations prove so resistant to collective learning? How do we stop making the same mistakes?
What changes to management education would better equip managers with the knowledge and competences they need today? Are there useful models to be found in how other professions are mastered?
Peter Drucker insisted that to be a change leader, an organization must also "establish continuity internally and externally." But that human-friendly balance he advised means nothing to a computer. Is it still valid as a principle for management?
So much of recent human achievement has resulted from growing capabilities in administration and leadership that the past hundred years have been called "the management century." How can we extend that run and make even greater progress in the future?
This article is one in the "shape the debate" series relating to the 13th Global Peter Drucker Forum, under the theme "The Human Imperative" on November 10 + 17 (digital) and 18 + 19 (in person), 2021.
#DruckerForum