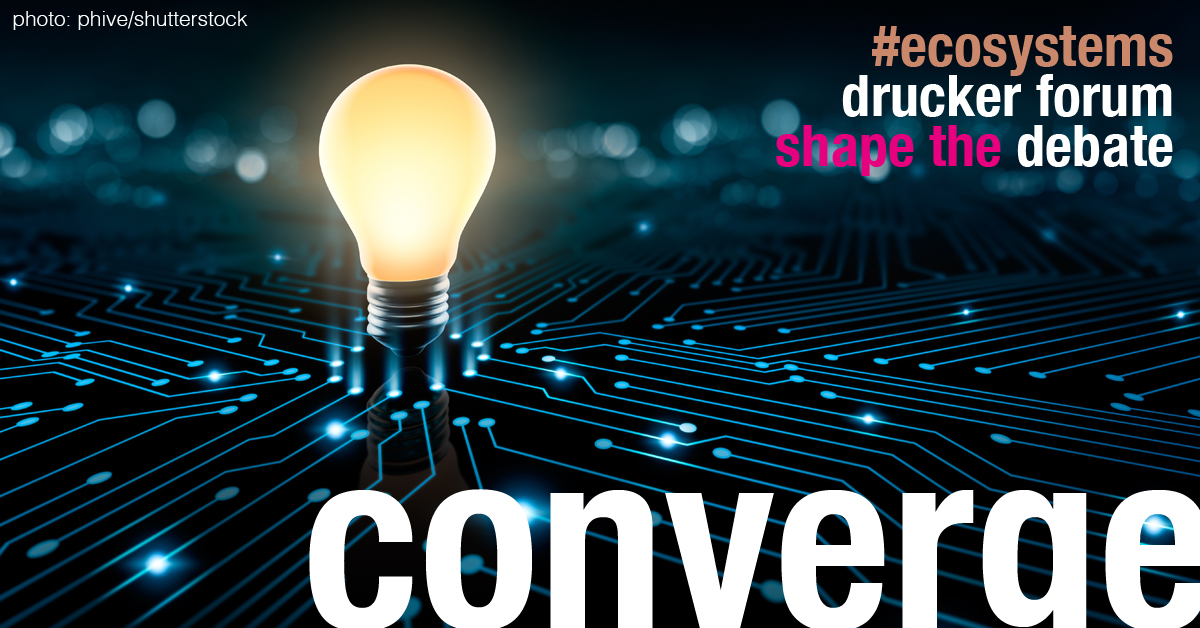 One of our saddest observations for us in the past decade is seeing youth, older people, and even companies who have only thought about survival without envisioning their future. We describe it our book A Methodology of Conceptual Imagination – Drawing a Big Picture" (Noboru Konno, Ikujiro Nonaka, in Japanese) Is it so only in Japan? It is not only a business or economic problem, but rather social dysfunction. It has also a connection to recent decline of confidence in leadership itself.
Drucker Forum 2019
Our primary concern in the book was the ecosystem. Today's business gets only meaningfully realized by bridging economic with social aspects. This is not possible with existing logical analytic approaches. Embodying and practicing a big picture means designing a business ecosystem.
Conceptual Imagination
Conceptual Imagination ('Einbildungskraft') is "the power to make something that does not exist". We considered it not only as "imagination" but also the power of "subjectivity" and "praxis". We try to fill the gap between the realm of purpose and the realm of actualities by its definition power. Peter Drucker argued that today's knowledge society is a society of organizations. It is an urban society. New values are created by the interaction and sharing of people's knowledge. Organizing common purpose is the key for partners to cocreate, and the urban areas will become labs of praxis for innovation. The process of ecosystem creation, like natural ecosystems, is relentless trial and error.
Ecosystem theories
In our book, we discussed the important theories. Based on our knowledge creation theory, the "grass roots" economic theories from Hayek to Phelps, Romer, and Nick Luhmann's theory of Social Systems were effective in explaining ecosystems. The pattern language of the Vienna-born architect Christopher Alexander is useful for ecosystem design.
Once, the Japanese companies "Keiretsu (series)" was a successful ecosystem, but it was a closed network. It stimulated the idea of "virtual enterprise" in the US, and later with the rise of the Internet, "open innovation" was born (open keiretsu). And now, it is the time of social enterprise, Open Innovation 2.0, which challenges environmental and social issues as a source of innovation.
Knowledge creation for effective ecosystems
In order to thrive through ecosystems, we need a platform for knowledge creation that goes beyond the boundaries of an individual company. Today's ecosystem is a component of the social and economic sectors, and the new social and economic functions (sectors) are needed to grow them.
A place (ba) of empathy and trust is essential to an ecosystem for knowledge creation. It will be explained by "knowledge ecology" as an act of sharing "grass roots" tacit knowledge, creating purposes and value together, nurturing amoeba-like experimental businesses and practicing that. Additionally, since the players of the ecosystem have different purposes, "Purpose Engineering", which coordinates, organizes, and synthesize them under a big purpose (common good), will play an important role.
About the author
Noboru Konno, Ph.D. is a Knowledge Ecologist, and Professor, Tama Graduate School, Tokyo. He is also Managing director of Ecosyx Lab, and Representative executive director, Japan Innovation Network.
This article is one in the Drucker Forum "shape the debate" series relating to the 11th Global Peter Drucker Forum, under the theme "The Power of Ecosystems", taking place on November 21-22, 2019 in Vienna, Austria #GPDF19 #ecosystems