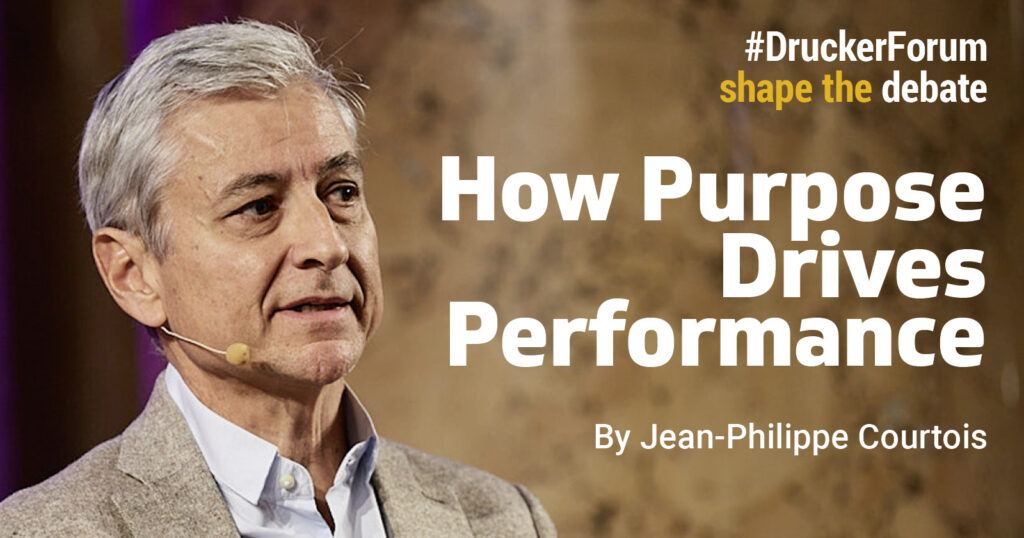 "The two most important days of your life are the day you're born and the day you understand why" – Mark Twain
Purpose matters to all of us: it's a key factor in our physical and mental wellbeing. As humans, finding our 'why' is important. When we understand our purpose and live it, we make a positive difference to ourselves and to those around us, and we change the world for the better. It's exactly the same for organizations.
In today's complex and challenging business environment, where we face existential threats like climate change and rising inequality, purpose is the critical factor in ensuring an organization succeeds over the long term. As business re-wires itself, to deliver against urgent ESG and UN Sustainable Development goals, only a clearly-articulated purpose at the core will ensure that companies and their employees thrive and grow. It's purpose that enables organizations to deliver profitable solutions to the problems of the planet. Today, over half of all professionally managed money is following ESG guidelines seeking to achieve positive impact, as well as profit.
Positive leaders connect people and purpose
Connecting the human to the mission and vision of the organization is a unique opportunity for positive leaders. This is not about static words on corporate slides, it's what you as a leader role-model through your actions, your values and the decisions you make each day. When you can achieve a connection between everyone's personal purpose and the organizational purpose, it's incredibly powerful, whether you are looking at Total Shareholder Return or hiring and retaining talent.
My fellow panelist at the recent Drucker Forum in Vienna, Harvard Business School Professor Ranjay Gulati, author of 'Deep Purpose', has spent years researching what makes companies successful and he has found that they "strive to deliver on their purpose while also generating profits at every turn. Indeed, they see purpose in the same light as profit – as a generative force that expands and improves everything about an organization."
Microsoft's journey: growth mindset; leadership principles and manager expectations
Microsoft has been on a journey of rediscovering its purpose. It started with our Chairman and CEO Satya Nadella, when he took over the CEO role in 2014. Together with the rest of the senior leadership team, we were intentional in creating a purpose-driven mission for our company: to empower every person and organization on the planet to achieve more. And we introduced a culture that could help us to deliver this.
As an organization, we've made a conscious decision to ground ourselves in the growth mindset, which provides the foundation for everything we do. Building from this, we have developed three leadership principles: create clarity, generate energy and deliver success. We ask: are leaders bringing clarity or confusion? Are they bringing energy or fear? Do they drive success or anxiety? For all managers, we have three expectations, wherever they sit in the company: that they are role models, they coach and they care about the people who work for them.
Culture matters
Creating a culture where employees feel empowered, included and autonomous, among other attributes, is crucial. This culture must offer a connection to the company's purpose so every employee can see their work as meaningful and themselves as a mission-critical component of the organization.
Meaningful work delivers
An example of meaningful work is an initiative I sponsor: Entrepreneurship for Positive Impact. Employees around the world are engaged with it. It's designed to empower social entrepreneurs, start-ups and scale-ups that have driving positive change as their guiding principle. As Microsoft, we are privileged to be able to help scale their businesses and accelerate their impact. Digitization is the key to achieving this; as is connecting these entrepreneurs to our ecosystem of customers and partners.
This isn't about philanthropy. As author of 'The Purpose Mindset' Akhtar Badshah told me in a recent conversation on my podcast: "Purpose is the soul of the company and purpose does not become amplified just because you are giving away money. You can write a check without having a purpose."
This is a two-way street. One one side it gives the entrepreneurs access to the technology investment and support to achieve their goals faster. On the other, it gives our ecosystem the opportunity to partner with entrepreneurs who bring innovative start-up solutions to the table. So it's an initiative that's rooted in our mission, our purpose and enables our customers and partners to accelerate progress in meeting their ESG goals.
Where to start defining your purpose
So where to begin if you want to find your purpose? I recommend reading The Second Mountain by David Brooks. Brooks looks at the way people climb their 'first mountain:' they pursue a career, acquire skills, support their families and achieve success. However, they then realize that this isn't their mountain at all; there is another, bigger, 'second mountain.' It's about putting the needs of others above your own and caring for people. Only by reaching the summit of this second mountain will you find joy, meaning and purpose.
As Paul Polman, former CEO of Unilever and co-founder of IMAGINE, told me: "Purpose is really about putting yourself at the service of others…..I think if you can achieve that and inspire others through your actions and your values….you will have a very fruitful life, and be part of something bigger."
Start today and channel your purpose into positive change for you, your teams, your organization and the world.
About the author:
Jean-Philippe Courtois is EVP and President, National Transformation Partnerships, Microsoft