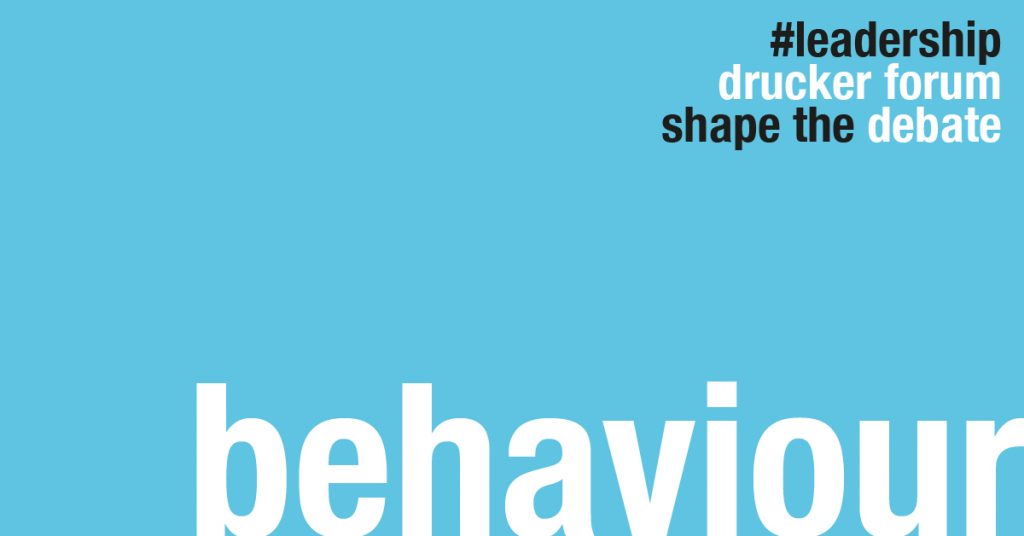 This was the year everything changed. A tiny virus, arguably not even a life form, had a bigger global economic impact than the banking collapses a decade earlier. Ways of working have been transformed. Remote working has gone from being a fringe activity mostly confined to globally dispersed teams, to being accepted as the norm across whole sections of the economy. Sectors such as hospitality and aviation have suffered sharp falls in business, furloughed staff and redundancies.
Drucker Forum 2020
Adjusting to this harsh reality is inevitable, but leaders need to recognize that there will be opportunities as well. When preparing for recovery, they have a choice: continue to slash costs and neglect individuals, or seize the opportunity to create an inspirational enterprise with humane leadership.
Responses by employers seem to be sharply polarized. Some are going to great lengths to make staff welfare a priority. Regrettably, others are managing only for the short-term – cutting jobs and costs, maximizing government support. Smart employers know that to look after staff in a crisis is to create a powerful asset for recovery. They understand the importance of emotional as well as economic recovery – and that the two are intimately linked. Team members who were supported by their leaders through a period of insecurity and fear will redouble their efforts once recovery begins. This is the essence of humane leadership.
There is urgency. The business world is crying out for courageous and compassionate leadership, to guide us out of the current state of fear. We need to create hope. For many, this challenge is intuitive and obvious – the challenge lies in understanding how our every behaviour affects this shift. Not all leaders possess the self-awareness necessary.
The behaviour of a leadership team has a ripple effect, felt first by the employee population and then more widely. This can be demonstrated both through employee engagement surveys and at the level of neuroscience. Our conduct and emotions are all infectious to the people around us. If we prioritize fair treatment, clear communication and employee welfare, we build a healthy culture that becomes a powerful commercial asset. If we prioritize cost-cutting, neglect of individuals and short-term targets, then commitment will dip, potentially imperilling any recovery. Fear can cause paralysis.
In my consulting work helping leaders through this phase, I use what I call 'the 8Cs Model of Humane Leadership' to prioritize key behaviours that my research over the past 20 years clearly shows to be beneficial. Among these are three crucial attributes: Compassion, Creativity and Candour. Taking each in turn:
Compassion – At a time of heightened workforce fears, it is essential that leaders seek to damp down rather than accentuate anxiety. This does not in any way prevent business leaders from taking tough decisions. Showing compassion is not only the responsible thing to do – it helps build a bank of commitment and energy for the future.
Creativity – The economic world has changed, and some features may be irreversible. We need to reinvent ways of doing business accordingly. Are there opportunities as well as threats in this ongoing crisis? How can businesses reshape themselves to take advantage?
Candour – Few things damage workforce enthusiasm more surely than being kept in the dark or misled about future prospects by a business's leaders. It is critical to be honest and clear in communication, and to chart a clear way forward, while avoiding information overload.
By supporting individuals during a time of immense insecurity, compassion, creativity and candour also help to rebuild organizational health and resilience for the future. This is a leader's duty. Normally, if you say 'Humanity is at a crossroads', it can sound like hyperbole. In these strange times, it may not be. We have to choose the right path.
About the author:
Vlatka Hlupic, author of The Management Shift and Humane Capital, is Professor of Leadership and Organizational Transformation at Hult Ashridge Executive Education and CEO of The Management Shift Consulting Ltd.
This article is one in the "shape the debate" series relating to the fully digital 12th Global Peter Drucker Forum, under the theme "Leadership Everywhere" on October 28, 29 & 30, 2020.
#DruckerForum