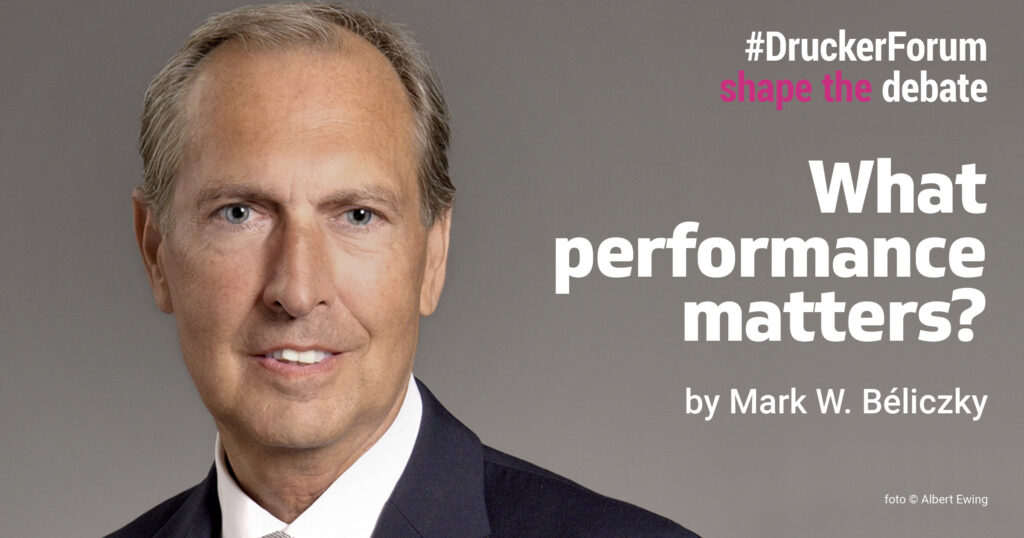 It is no surprise that the theme and focus of the 2022 Global Peter Drucker Forum is "Performance that Matters: Sparking the Entrepreneurial Spirit." And Drucker was very clear about the significance and importance of goals, measures and performance when he stated that "Unless we determine what shall be measured and what the yardstick of measurement in an area will be, the area itself will not be seen." And some sixty-eight years ago in his book, The Practice of Management, he also spoke to performance when he outlined the idea of MBOs.
It is likely that Peter Drucker would start a "Performance that Matters" discussion by first addressing the purpose of a business — "to create a customer…the customer is a foundation of a business and keeps it in existence. The customer alone gives employment. And it is to supply the customer that society entrusts wealth-producing resources to the business enterprise." The fundamental "Performance that Matters" questions businesses should then be asking and tracking would be: how well are "we" performing in creating NEW customers, followed by the measures of customer retention and satisfaction. Failure to know and track these very basic customer growth performance metrics likely results in a business challenged in achieving both sustainable growth and competitive advantage.
Two functions of a business
Drucker goes on to state that "the business enterprise has two–and only two–basic functions: marketing and innovation. Marketing and innovation produce results; all the rest are costs. Marketing is the distinguishing, unique function of the business." The next set of performance measures would be marketing effectiveness and the organization's propensity to innovate— metrics that allow the company to adjust, refine and move swiftly and directly toward achieving market distinctiveness and leadership. Peter Drucker also notes that marketing and innovation are key entrepreneurial functions and having a culture of entrepreneurship/intrapreneurship can truly set the enterprise apart from all others.
For many established organizations the decision to embrace and move to a more compelling entrepreneurial culture (the process that turns those (creative) ideas into actual innovations) many be daunting, but very possible.
Job crafting
A good starting point would be to introduce "job crafting" or the re-framing of jobs to be more meaningful and aligned with team members' interests and values. And one will know when they have arrived at a more entrepreneurial culture/climate when the following questions can be answered by "yes":
Do you try to learn new things at work?
Do you ask your boss to coach or mentor you?
Do you often take on more tasks than your role formally requires?
And in staying on the theme of culture and "Performance that Matters," should not an organization also be setting its sights on and measuring the extent to which they have a high-performance culture?
Follow the research
Research conducted by the Gallup organization focused on measuring and determining the key success attributes for the best managers. They found that these managers: set clear expectations, defined employee roles, created trusting environments, encouraged employee growth and development, and continuously raised the bar and encouraged high performance. Further, it was found that these managers created a climate of empowerment and in sharing authority/power with vs. over team members. They were also aware of and recognized their business as ever-changing, and maintained a keen focus on innovation and on developing a customer-centric strategy — team members understanding of individual and collective responsibilities in meeting customer needs and expectations.
Another "Performance that Matters" is leadership communication and collaboration. Gallup research also revealed that high-performing leaders and managers understood their role in the communication process, scheduled regular one-on-one conversations, used collaborative approaches, and created strong levels of trust. Lastly, these high-performance leaders maintained a heightened intent to change and their commitment to change resulted in an enhanced brand both with customers and team members.
Globally, there are many great examples of highly successful businesses which have crafted and successfully executed compelling strategies and which 32 have also been quite successful in establishing effective "performance that matter" scorecards. However, there is significant work yet to be done when considering the global business performance scorecard:
Strategy execution average success rate is 50%
Only 15% of team members are engaged
70% of managers are "just there" or "poor" with 70% of engagement directly attributable to managers
70-90% of acquisitions fail
90% of start-ups fail
"Management is practice. Its essence is not knowing but doing. Its test is not logic but results. Its only authority is performance."
-Peter Drucker
There is a need for more authentic and vulnerable leaders focused on creating and maintaining cultures of openness, honesty and empathy. As many more leaders actively lean into topics and conversations, they may find that their team members are encouraged and enabled to share their very best thinking and deliver "Performance that Matters."
These questions and more will be great topics of discussion with scholars, business leaders, authors, academicians, business trade journalists and others during the 14th Global Peter Drucker Forum 2022.
About the Author:
Mark Béliczky is President and CEO of ProHome LLC and is Chartered Manager and a Fellow at the Strategic Management Forum, and a member of the American Academy of Management and the Peter Drucker Society Europe. He holds a faculty position at Georgetown University, and lectures at other universities in the US and Europe.
https://www.linkedin.com/in/beliczkyseniorexecutive/
571-228-2341