Very Special Pre-Events (November 20)

With the Forum itself always occurring on Thursday and Friday, it has been our practice to offer optional pre-conference sessions on Wednesday, providing opportunities to explore topics that fall outside the main event's annual theme.

This year, we will continue the successful 2018 approach of proposing to Forum registrants to book either the full day of Wednesday content or the afternoon only. Those participating in the afternoon will choose among several round tables and workshops focusing on leadership development, successful enterprise transformation, the unfolding impact of artificial intelligence, and more. We are particularly excited about a new type of high-energy session in which participants will get hands-on experience with a creative thinking method called "Lego Serious Play."

Those who opt for the full day will also benefit from a remarkable series of Master Classes with some of the world's foremost management thinkers. Participants will learn from futurist Amy Webb, marketing scholar Philip Kotler, and organizational theorist Amy Edmondson, as well as gaining new skills for breakthrough problem-solving and strategies for taking diversity to new levels. View the detailed program for the pre-conference.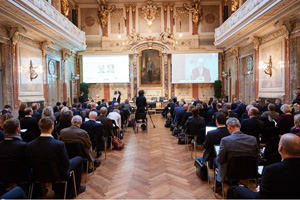 The pre-conference will be held in two sumptuous locations – the House of Industry and the Vienna City Hall. All those booking the pre-conference will be invited to join the late afternoon reception at the House of Industry and have the opportunity to meet the speakers and chairs.

Booking of the pre-conference is possible by choosing either the full-day or afternoon option during the registration process. Register now.
Or, if you have already registered, add your pre-conference booking by using your profile code. If you encounter difficulties, please contact events@druckersociety.eu
Specials at the Forum (November 21 & 22)

You will have seen the Forum Program in previous communications. Our goal has been to assemble a program of management thinkers and practitioners that is second to none, and we do hope you find it attractive. Here, we would highlight the addition of two atypical luncheon sessions. The first, on Thursday, is called "Well Being Inspires Well Doing," and is hosted by an extraordinary social entrepreneur (Bart Weetjens) who also happens to be a Zen priest. The second, on Friday, also has a host with a unique combination of talents: Bernhard Kerres, an opera singer turned Silicon Valley tech CEO. This one is "Beating AI with Mozart," and specially tuned to the young generation that is such an important presence at the Forum.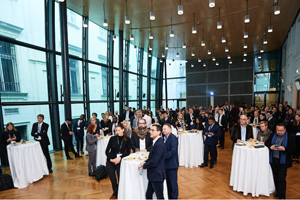 A Mega Learning Opportunity

The purpose of the Drucker Forum is not to teach specific managerial tools and techniques, or to stage a lavish networking event. The ambition is to inspire purposeful action and to provide new lenses on how to perceive business in society. It is most encouraging when participants tell us —as we have heard from CEOs of some very large organizations— that the Forum is a major learning event for them.

This is where the focus on preparation comes in: you will get most out of the Forum (regardless if you there in person, participate in the livestream or use the video library after the event) if you delve into its theme. As well as consulting your own sources, consider checking out the foundational reading material on business ecosystems we offered previously and the Harvard Business Review series on the Drucker Forum blog. Or use the hashtag #GPDF19 to find our content on social media platforms including Twitter, Facebook, Linkedin and Instagram. We would love to have you not only read the ideas we publish but engage with them, too. Together, we will keep learning.

With best wishes
The Peter Drucker Forum Team