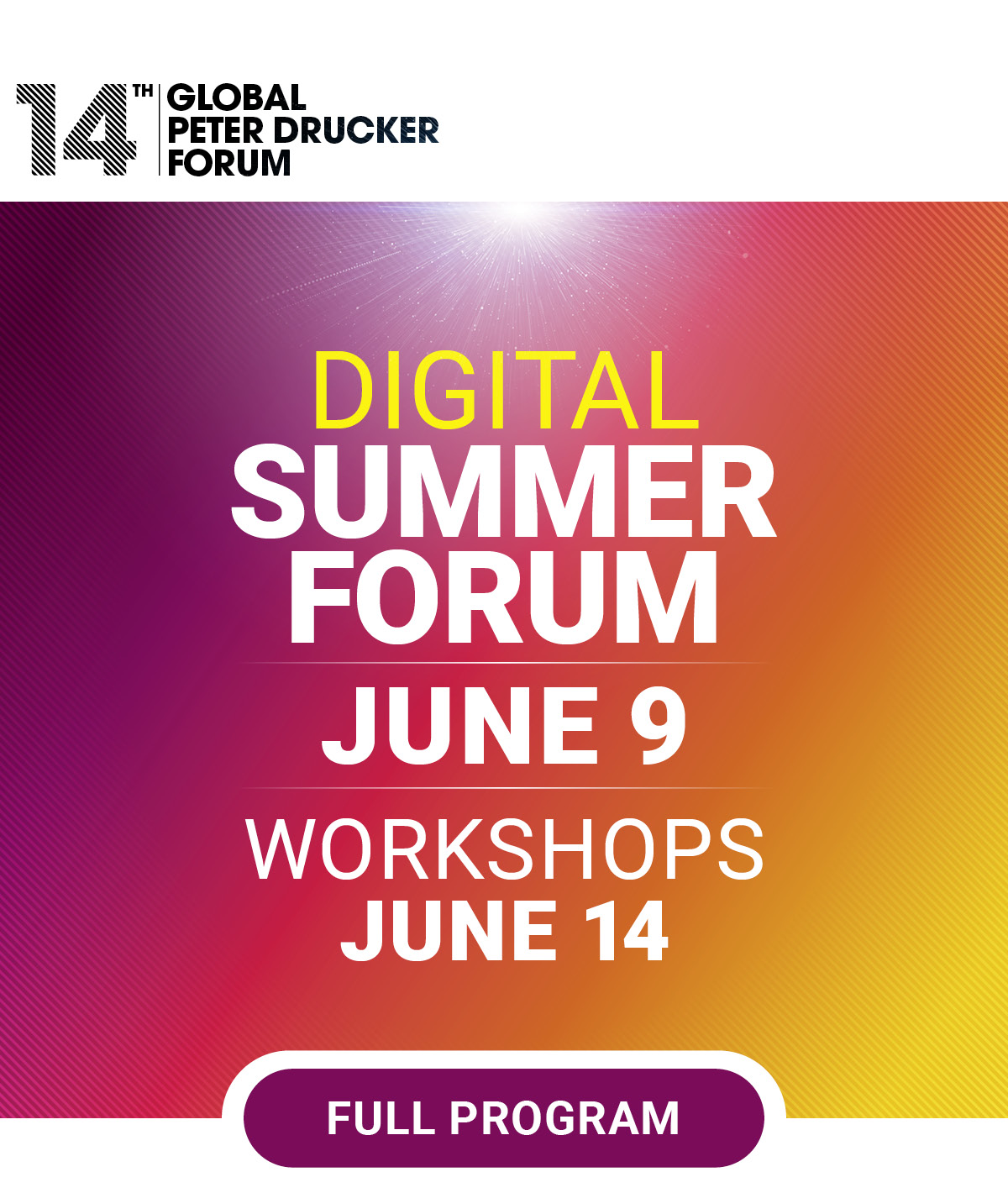 Take part in a global dialogue on performance that matters
This year's Digital Summer Forum takes up today's most urgent management topics under our 2022 theme, Performance That Matters. Join us as we explore keys making hybrid organizations work, attracting and retaining talent, regaining focus in a time of competing demands, measuring performance, and cultivating high-performance cultures and teams.
Programs
have now been finalized for the June 9 Digital Summer Forum and the June 14 Digital Workshops and Master Classes. Our world-class speakers look forward to sharing their thinking in highly interactive sessions with audiences rich in experience and diverse in backgrounds. By participating in this part of the journey leading up to the in-person Global Peter Drucker Forum in November, you will also help sharpen the focus of debates and dialogues in Vienna.
---
Digital Summer Forum
A full day of exceptional panels will address the current realities of how to boost organizational, team, and personal performance. Two "unconference" sessions afford special opportunities for participants to share their own points of view.
---
Digital Workshops
and Masterclasses
In these focused and highly practical sessions, expect to gain frameworks, tools, and in-depth understanding from experienced problem-solvers. Your organization needs these insights!
---
Convenience at your fingertips
Digital sessions are all 50 minutes long with a 10-minute break at the end, and start at the top of the hour.
They can be accessed via ZOOM, with a chat function that encourages comment and exchange of ideas, opinions, and experiences with fellow participants throughout.

You have received this newsletter because you are
- a subscriber of the regular newsletter
- part of the Drucker Forum or Drucker Challenge Community
- you showed interest in Peter Drucker Society Europe's activities.
©️ Peter Drucker Society Europe 2022. All rights reserved.
Registered in Vienna, Austria. ZVR-Nr. 209806523