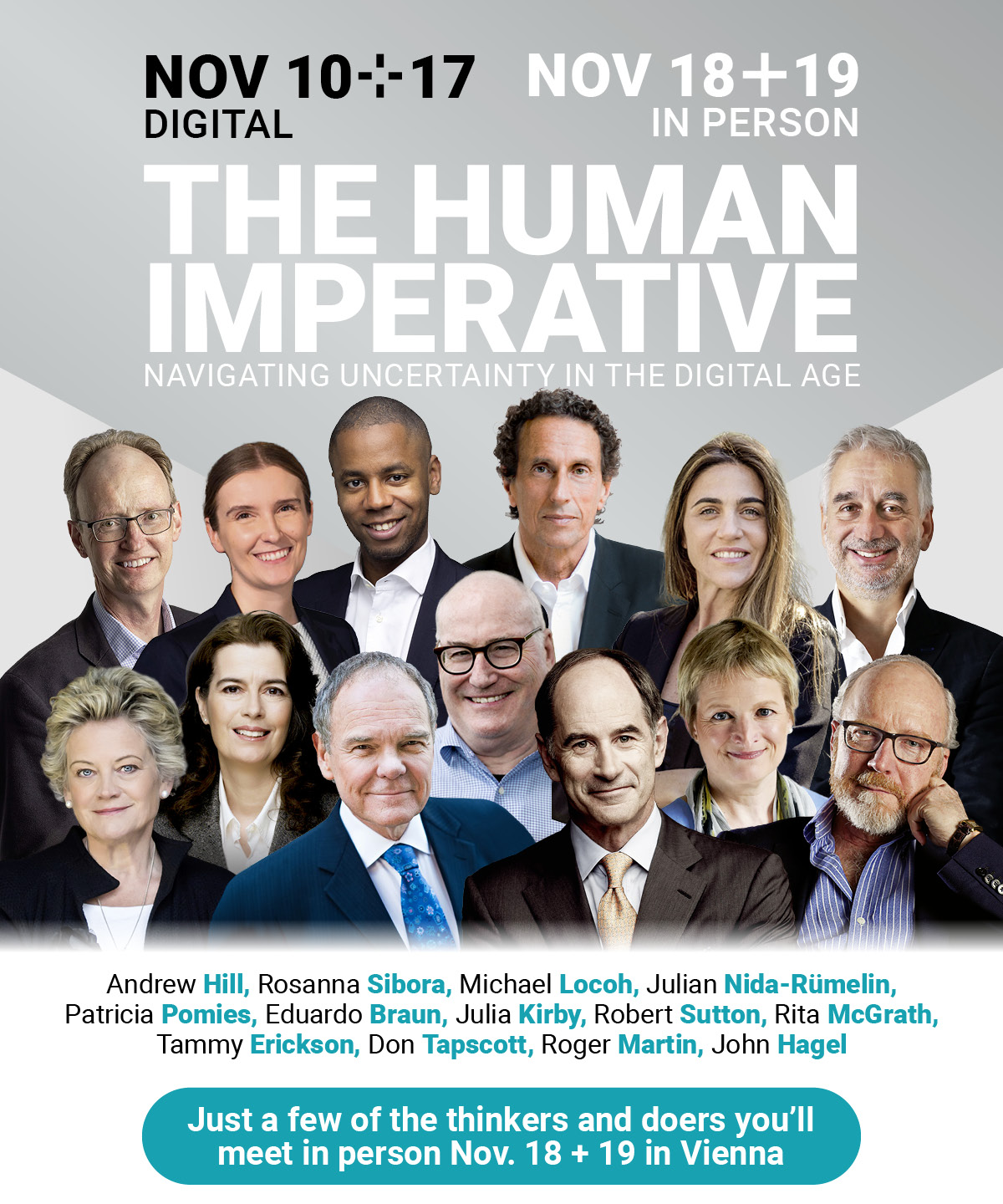 How can we get more leaders to bend their efforts toward solving the most important human problems and realizing human potential at new levels? How do we ensure that slick technology solutions don't pave the way to anti-human, even totalitarian results?
In today's large-scale digitization efforts, we see again that deeply human drive to forge ahead with new tools and ideas that are appealing, yet in some ways appalling. The best-led organizations are managing to strike a healthy balance between continuity and change. Harnessing technology in ways that respect the wisdom and energy that reside only in people, they are reasserting the human imperative.
Join us to learn from the human-centered leaders and thinkers contributing to this year's Drucker Forum, in the format that works for you. Click through to the program

of

the Digital Forum Day on Nov. 17. Also consider the in person Drucker Forum that follows, as a more interactive experience

in Vienna, Nov. 18

and

19

.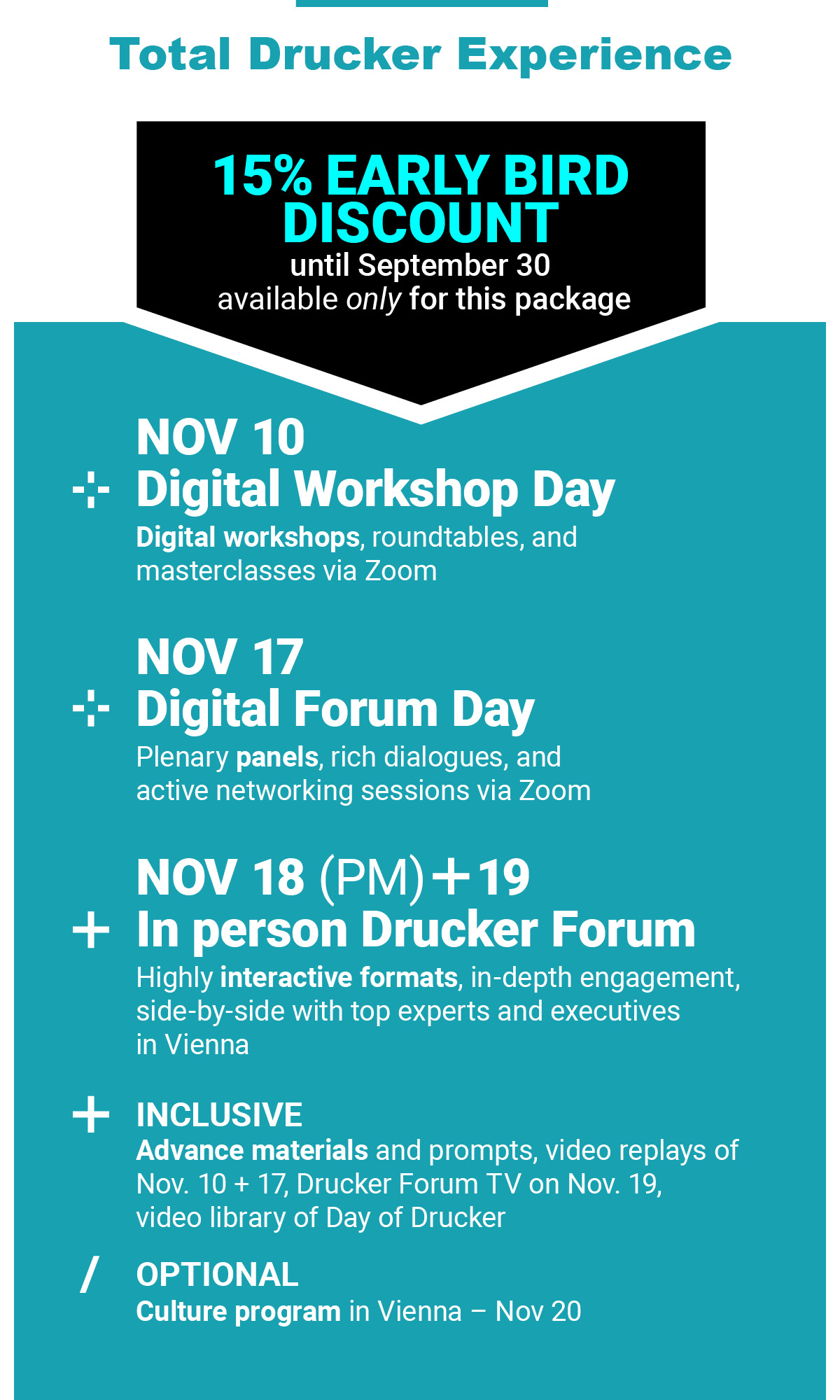 For top value, choose the Total Drucker Experience – 15% early bird discount to 30 Sept., available only with this option – comprising:
●
Digital Forum Day – a

full day of live sessions

on Nov. 17, with replays available after. See the link for the program and speaker lineup. C

an be booked separately
● Digital Workshop Day (Nov. 10) – a choice of workshops, roundtables and masterclasses on

key management challenges.

C

an be booked separately

● In person Drucker Forum - a day and a half (afternoon of Nov. 18 and full day Nov. 19) of up-close engagement at the Hilton Stadtpark Vienna. Register early: seating limited to 300.
● Drucker Forum TV –

streaming coverage of the event, featuring highlights from

previous

digital panels of Nov. 17

and

interviews with select speakers.
● Cultural program in Vienna on Nov. 20 (optional).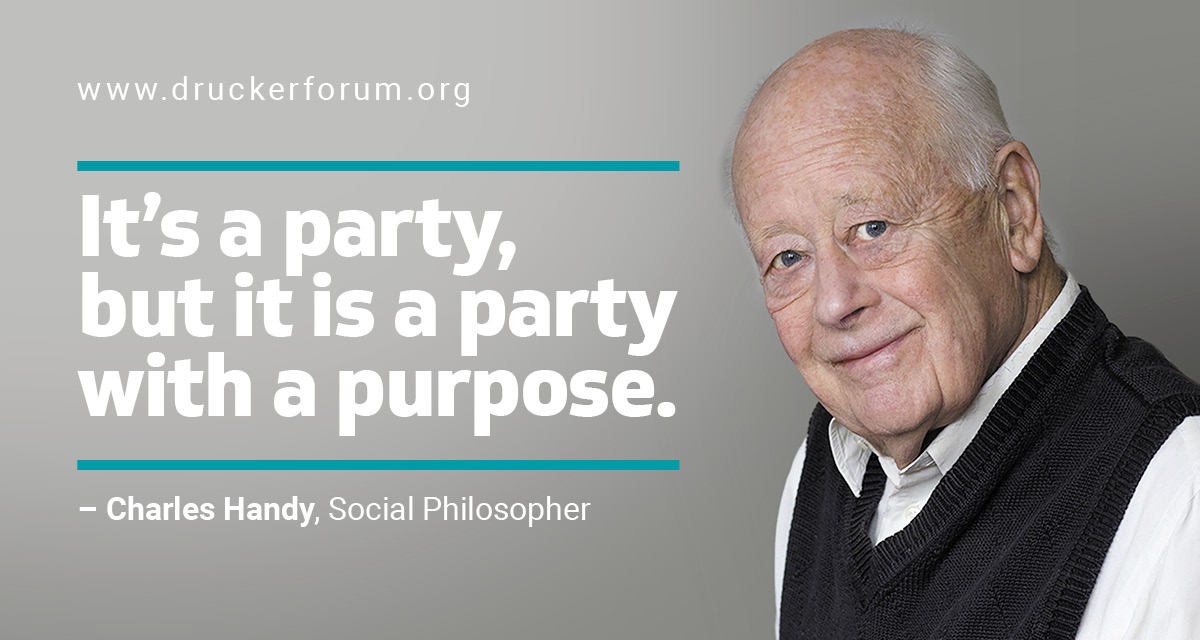 celebrate the human imperative in Vienna
A party with a purpose: savour the return of live attendance at our headline event and the culmination of this year's eventful Drucker journey in the company of an unprecedented slate of thinkers and doers in Vienna as shown in our visual. Explore with them the notion of "Digital Humanism", one of tomorrow's emerging big ideas; go deeper into issues raised during the Digital Forum Day; and engage with crucial topics such as digital ethics, the human challenges of AI and Big Data, corresponding changes in the role and responsibilities of the leader, not to mention the disruptive implications of all this for the way managers are trained and developed. All this in a context of personal conversation, co-creation and participant-led sessions, with unique opportunities for providing input and joint working sessions between speakers and participants.
Expect short keynotes from leading thinkers, a lot of exchange with tough questions and critical thinking in a congenial interactive setting—no conversation true to the spirit of Peter Drucker could offer any less.
---
Partner events
In the run-up to the Forum, check upcoming events by our partners on our new partner event page online.
Iterating Experience, Inventing Value
Shifting our mindset and emotions to tackle and benefit from AI
Concrete Love - The Making of Beatiful Business
A Big Bang by Kotler & Partners

You have received this newsletter because you are
- a subscriber of the regular newsletter
- part of the Drucker Forum or Drucker Challenge Community
- you showed interest in Peter Drucker Society Europe's activities.
©️ Peter Drucker Society Europe 2021. All rights reserved.
Registered in Vienna, Austria. ZVR-Nr. 209806523