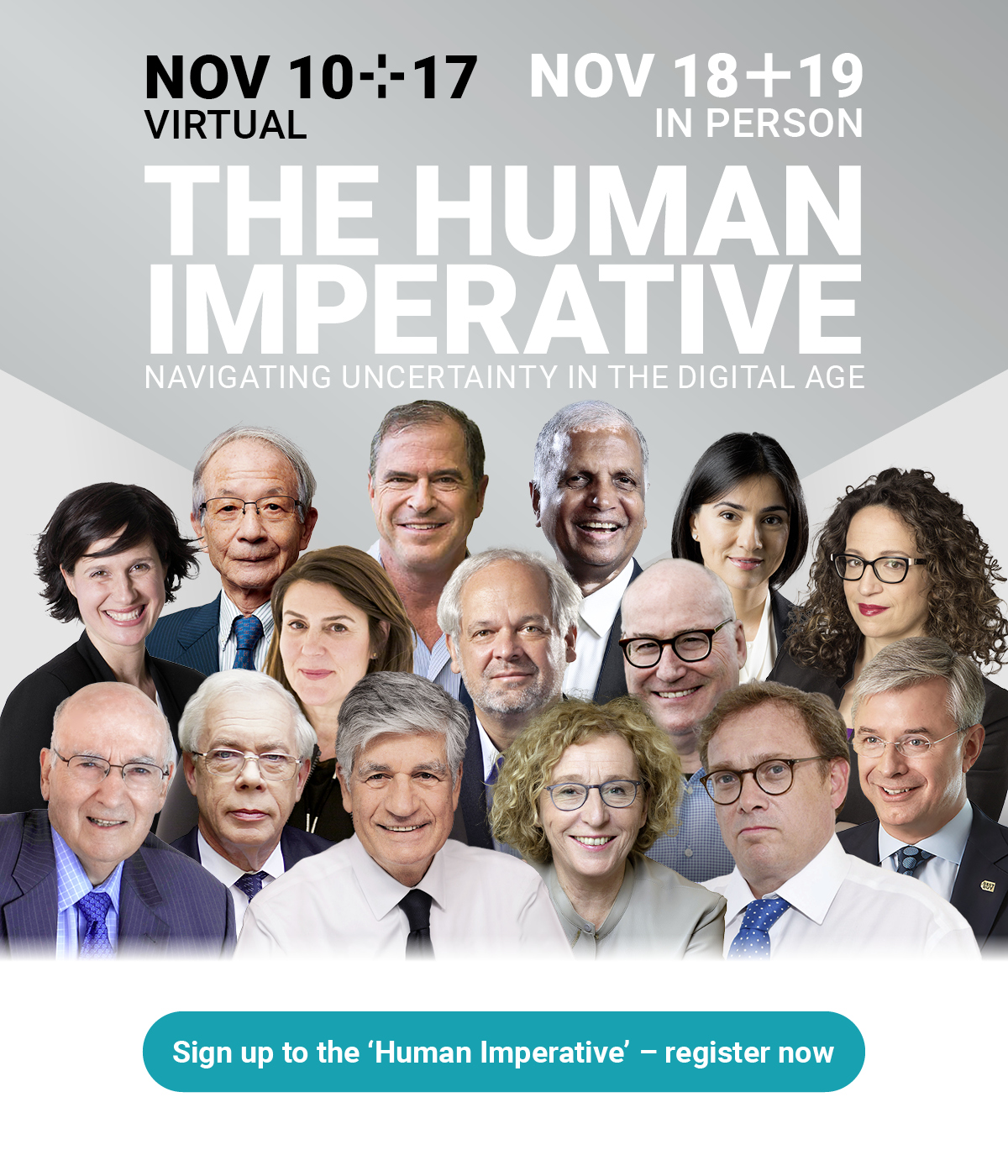 Today, it is striking that it is our societies' most humane and humanistically-oriented organizations that are defying dystopian predictions in order to change current narratives and put the months of setbacks behind us. They are choosing boldly to reassert

the human imperative as they look

forward

to

a better

future

.

It is in this spirit that the 2021

Global Peter Drucker Forum

is convening

an energized community of rising generation leaders, inspired speakers and forward-looking executives who are determined to step up to Dr

ucker's challenge: to realise

the

inestimable potential of

great management

to improve

our world by

fostering

innovation and entrepreneurship, fueling broad-based prosperity, and applying technology in ways that truly benefit humankind.
As the culmination of the 2021 Drucker Forum Journey we invite you to join us in November. By registering for our total interactive package, you'll gain access to:
• digital workshops, roundtables, and masterclasses on November 10
• our digital flagship Forum in virtual format, featuring renowned thinkers in plenary panels, rich dialogues, and active networking sessions on November 17
• our in person Forum in Vienna, shifting this year to a more exclusive and intensely interactive summit of top speakers and executives, on November 18 + 19
• our new Drucker TV streaming channel broadcasting interviews and moderated small-group discussions on November 19
• advance materials and prompts to help prepare and focus your mind for engagement
• video replays from our June 2021 Day of Drucker, highlighting Peter Drucker's own thinking and its current relevance
• an early bird discount of 15 % until September 15—available only with this package
---
Total Interactive Package
---
Main Focus
Based on a humanistic philosophy and new ways to translate it into the reality of business and institutional management, we

will

delve

deep into

questions of technology, humanity and uncertainty: Where is the headlong advance of technology taking us and how can we shape it? What will the world of 2030 look like

? Digital humanism –

w

hat could this be?

What are the great uncertainties of our age and how does digitization exacerbate them? Panels will discuss p

erformance,

p

roductivity, and the

k

nowledge

w

orker;

t

he

g

reat

r

ebalancing:

h

ow

w

ork-from-

h

ome

c

hanges

e

verything;

l

eading

p

eople through

c

hange:

h

ow

m

uch,

h

ow

f

ast? and

how to t

urn a

l

arge

e

nterprise into a

h

otbed of

i

nnovation …
---
Speakers

With

more that 80

speakers already confirmed, this year's event offers an

unparalleled

range of management perspectives.
Be inspired by great organizational leaders, including Nand Kishore Chaudhary (Jaipur Rugs), Hubert Joly (Harvard Business School), Marie Ringler (Ashoka), James M. Loree (Stanley Black+Decker), Maurice Lévy (Publicis) and Muriel Penicaud (OECD) … management thinkers from Ikujiro Nonaka and Herminia Ibarra to Bob Sutton, Zeynep Ton, and Phil Kotler … and economists, social scientists and commentators like John Kay, Juan Enriquez, Amy Webb, and Adrian Wooldridge.
We cordially invite you to

join us in shaping the Human Imperative for the 21st century at the Drucker Forum in

November 2021

, where we look

forward to

welcoming you

virtually and/or in person. You will

come away with fresh attitudes to managing in

an ever more complex and challenging world based

on values of initiative

, autonomy and human creativity.
Your Global Peter Drucker Team

You have received this newsletter because you are
- a subscriber of the regular newsletter
- part of the Drucker Forum or Drucker Challenge Community
- you showed interest in Peter Drucker Society Europe's activities.
©️ Peter Drucker Society Europe 2021. All rights reserved.
Registered in Vienna, Austria. ZVR-Nr. 209806523