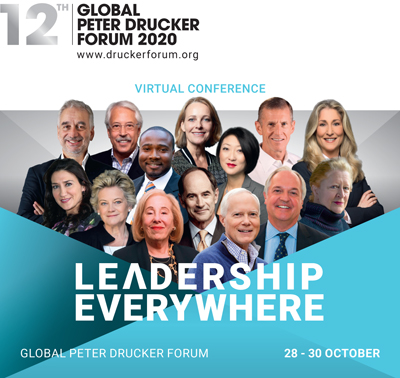 Peter Drucker Forum moving fully virtual
The
12th Global Peter Drucker Forum
, planned as a hybrid event, is now moving to become a fully virtual one. It is a move that has become unavoidable given current travel restrictions, corporate travel bans, and new policies for large gatherings.
The good news is that months of work have gone into ensuring a
very rich interactive online experience
– for both plenary sessions and small group events. Note, too, an important programming change: the full integration of what had been a pre-conference "extra" into the main event, making for a
truly rewarding two and a half days of content.
In today's crisis-ridden world, this will be a "Drucker Moment", bringing much needed voices, common sense, and sound judgment to come to the fore.
Join us from wherever you are to support our mission to help strengthen leadership everywhere.
All best wishes
Richard Straub and the Drucker Forum Team



Why opt for the full digital package? You'll benefit from...
Rich participation in debates about leadership priorities – at the moment when the world needs it most
Quality presentation enabled by panel moderators and Zoom hosts and supported by world-class technology
Peer-level idea exchange in plenary session breakouts
Direct interaction with leading thinkers and practitioners
Top-quality delivery, enabled by panel/discussion moderators, Zoom hosts, and tech support in each session
Fluid orchestration by conference chair Eduardo P. Braun from a studio in Vienna
Networking and collegial experiences throughout the event, including private meet-ups in our Chill Out Lounge
Informal discussions with top thinkers in small-group "Thinker's Corner" gatherings
Flexibility to enjoy the full 2 1/2 day program or choose more selectively among sessions

Or choose Livestream only, with the ability to post questions/comments via Slido during sessions and concluded sessions on demand
Viewing of all plenary and parallel plenary sessions according to the program
Access to a direct messaging system for questions and comments during sessions
Replay of completed sessions

The benefits for
full members
include a 30% discount for the Full Digital Package. Members also have access to exclusive round tables during the year with top level thinkers.
Watch summaries of recent round tables on
The Future of the Office
, chaired by Andrew Hill, and
#LiveWithTheVirus,
chaired by Julia Kirby.
Join our core community and subscribe to become a member
here
.

We see it as our obligation and privilege to host an assembly of management practitioners and thinkers ready to provide leadership in the spirit of Peter Drucker's human-centered worldview.

Our top visual shows a subset of this amazing group:
Eduardo P. Braun, Tiffani Bova, Scott Cook, Gemma D'Auria, Tamara Erickson, Gary Hamel, Margaret Heffernan, Roger L. Martin, Stanley McChrystal, Miriam Meckel, Rosabeth Moss Kanter, Efosa Ojomo, Fleur Pellerin, Paul Polman...
See all speakers and moderators here.


Don't miss new, debate-shaping contributions on the
Drucker Blog
by Miriam Meckel, Rod Collins, Alex Adamopoulos and Vlatka Hlupic.
Our hashtag
#DruckerForum
gives you quick access on Twitter, Linkedin, Facebook, Instagram, and other social media to content published in preparation for this year's Forum.
You have received this newsletter because you are
- a subscriber of the regular newsletter
- part of the Drucker Forum or Drucker Forum Community
- you showed interest in Peter Drucker Society Europe's activities
- you are a registered member of the Peter Drucker Society.
Terms of use & Privacy Policy
Peter Drucker Society Europe Registered Office: Thurngasse 13/18, 1090 Vienna, Austria
contact@druckersociety.eu
If you no longer wish to receive our newsletters,
unsubscribe here.