This is a quick note to alert you to options regarding the upcoming 2019 Drucker Forum which may be of importance to you. Recognizing that it is not always practical to travel or take multiple days away from other activities, we offer ways to participate in select parts of the program. As you may know from prior communications, the Drucker Forum itself fills two days, November 21–22, and the day prior to the main event, November 20, features focused "master classes", workshops, and roundtables with leading management thinkers. Many come to Vienna for all three days, but alternatively you might choose to:
1. Participate remotely in the Live-streamed Forum

This is not simply listening in from afar; while cutting out the travel, it promises rich participation employing tools to access materials, contribute thoughts, and pose questions in real time. Expect to commit focused attention and engage meaningfully. Please note the reduced rate (a 20% discount) available through October 31. Register LIVE Stream.
2. Attend only the pre-conference offerings, in part or full

A small number of registrations are still available for this
rare learning experience.
On the morning of
November 20,
six world-class management thinkers
(Philip Kotler, Amy Edmondson, Alex Osterwalder, Avivah Wittenberg-Cox, Amy Webb, and Thomas Wedell-Wedellsborg)
lead a series of 45-minute, high-energy sessions. The afternoon brings a selection of roundtables and workshops for interactive exploration of new management ideas.
See the program here.
Afterwards, participants are welcomed to the Forum's Speakers Reception in the sumptuous, historic setting of the Austrian Federation of Industry.
We offer these places first to you - the Drucker Forum Community (first come first served).
Register via this special website,
and choose either the full day including speakers reception, or just the morning workshops and luncheon.
3. Come to the two-day Drucker Forum, November 21–22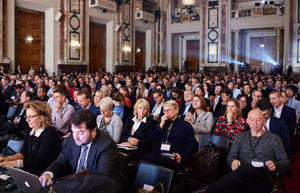 Here, too, places are filling rapidly, but we would be very happy to see you at the main event
in person.
Book by end of October to join this celebration of what we believe
enterprise leadership should be: a noble calling.
More than half a century ago, Drucker identified management as a new but "indispensable" discipline for
making society's resources more productive.
With the dawn of the twenty-first century have come enormous opportunities and anxieties – but no surplus of talent to address them. At a time when, more than ever, "the entire world has an immense stake in the competence, skill and responsibility of management,"
let us support each other in stepping up to the task. Register here.

With best wishes
The Peter Drucker Forum Team