as Press
Welcome
to the press section of the
6th GLOBAL DRUCKER FORUM 2014
Here you will find contact details and information on press accreditation for the Forum as well logos and banners to download.
Short Bio Richard Straub
For any other questions please contact one of our press departments:
Links/Information
Please visit News and our Newsletters
for updated information
For info about Peter Drucker's life please click here
and you can find books by and about Peter Drucker by clicking here.
Please find the Program here.
German Media
Melanie Wollenweber
Press Officer
ICWE GmbH
Leibnizstrasse 32
10625 Berlin
Tel.: +49 (0)30 - 310 18 18 - 0
Fax: +49 (0)30 - 324 98 33
E-Mail: melanie.wollenweber@icwe.net
International Media
Press Accreditation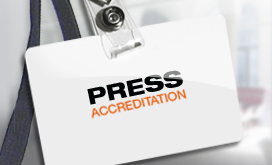 Press badges for the 6th GLOBAL DRUCKER FORUM 2013 are limited to members of the printed or electronic press currently employed by a news organisation.
To qualify for a complimentary media pass all applicants must present a valid 2014 press card.
Freelance writers must present an original letter of assignment from a qualifying editor or publication and one sample of an article published in the last six months.
Please note! Members of the press are responsible for their own travel and accommodation costs.
Hotel and travel information can be provided by
Please be advised that due to high demand press passes are limited in number and are reserved for commercial news outlets. To obtain a press accreditation, applicants may apply for DAY1 (Nov 13) and/or DAY2 (Nov 14) by submitting the proper credentials to

Melanie Wollenweber
melanie.wollenweber@icwe.net
You will get a confirmation email once the application has been approved.
Please note! Complimentary media passes will be distributed on-site at the Press desk. They do not include access to the Gala Dinner.
Sylvie Herman
Conference Director
c/o Meet U There
Mob:+32(0)475 68 05 15
Peter Drucker Forum 2013
Facts 2013
participants from 46 different countries
60% senior business executives, 15% academics, 15% from the non-profit and public sector, 10% Gen Y representatives
from Europe.
Other continents: Americas (13%), Asia (6%),
Middle East and Africa (4%), Oceania (1%)
keynotes from: Don Tapscott - Helga Nowotny - Charles Handy - Fredmund Malik - John Hagel III - Tim Brown - Umair Haque (per video) - Rick Goings - N. Chandrasekaran - Doris Drucker (per video)
Peter Drucker Forum 2012
Facts 2012
participants over the two days event.
54% from business, 16% from Education & Research, 12% from the non-profit sector, 12% Challenge Winners, 4% Media and 2% from the public sector.
from the following countries:
Austria (23%), Germany (14%), USA (12%), UK (7%), Switzerland (4%), Belgium (4%), France (3%), Spain (2%), Brazil (2%), and 33 % from other European countries or continents.
Per continent: Europe (77%), Americas (13 %), Asia (7%), Middle East
and Africa (3%)
keynotes from:
Dan Shechtman – Roger Martin – Paul Polman – Adrian Wooldridge – Lynda Gratton - Rick Wartzman – John Quelch – Tammy Erickson – Vicki Escarra – Bernhard Katzy - Doris Drucker (per video)
Peter Drucker Forum 2011
Facts 2011

people attended over the two days event.
50% of the delegates were from business, 17% from academia, 15% from the non-profit sector,
10% Students, 7% Press and 3% from the public sector
came from the following countries:
Austria (35%), USA (12%), Germany (10%), UK (7%), Switzerland (4%), Belgium (4%),
France (3%), Spain (2%), Brazil (2%), and 20% from other European countries or continents.
Per continent: Europe (77%), America (15 %), Asia (6%), Africa (1%), Oceania (1%)
keynotes from:
Charles Handy - Mark R. Kramer - Rakesh Khurana - Deepa Prahalad - Iqbal Z. Qhadir - Daniel Weihs - Doris Drucker (per video)
PDF Download Facts & Figures
Peter Drucker Forum 2009 and 2010
Facts & Figures 2009/2010
people (+/-) attended over the two days events
About half of the delegates were from business, one third from academia and one fifth from non-profit and public sector
came from the following countries:
Austria (47%) / UK (8%) / Germany (8%) / USA (5%) / Finland (4%) / France (3%) / Spain (3%) / Belgium (2%) and 20% from other European countries or continents
speakers shared knowledge
keynotes from speakers such as:
C.K. Prahalad – Doris Drucker – Philipp Kotler – Charles Handy - Andrew Keen – Rick Warren - Avivah Wittenberg-Cox - Matthias Horx
Logos & Banners Download
Download

file name

file

use

Colour

Peter Drucker Society of Europe
vector based Encapsulated Postscript file

EPS

print

cmyk

Peter Drucker Society of Europe
pixel based JPEG (300 dpi)

JPEG

print/web

RGB

Peter Drucker Society of Austria
vector based Encapsulated Postscript file

EPS

print

cmyk

Peter Drucker Society of Europe
pixel based JPEG (300 dpi)

JPEG

print/web

RGB

5th Global Drucker Forum 2013
vector based Encapsulated Postscript file

EPS

print

cmyk

5th Global Drucker Forum 2013
pixel based JPEG (300 dpi)

JPEG

print/web

RGB

6th Global Drucker Forum 2014
vector based Encapsulated Postscript file

EPS

print

cmyk

6th Global Drucker Forum 2014
pixel based JPEG (300 dpi)

JPEG

print/web

RGB