Speakers Bios & Abstracts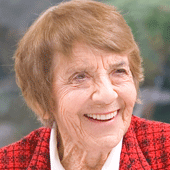 Doris Drucker
US
Honorary President, Peter Drucker Society Europe;
Board member, the Drucker Institute


1.10.2014


Photo by: Katsuo Sugano
Doris Schmitz Drucker, entrepreneur, author, avid sportswoman and mountain climber, and widow of the late eminent management theorist and professor, Peter F. Drucker, passed away on October 1. She was 103.

Born in Koenigstein, Germany in 1911, she aspired to be a physician. She emigrated first to Paris and then to London, where she studied at the London School of Economics and married her husband; they emigrated to the United States in 1937.

In her 77 years in the US, she lived in Bronxville, NY ; Bennington, VT; Montclair, NJ; and in Claremont, CA, moving there in 1971 when her husband, Peter Drucker, joined the Claremont Graduate University faculty.

Coincidentally, in 1951, the Drucker family spent a summer in Claremont, traveling across the country to and from their home in New Jersey by train -- with a detour to Estes Park, Colorado, which became the Druckers' favorite summer vacation spot.

Mrs. Drucker worked as a scientific translator, market researcher and technical patent agent in New York in the late '60's, after raising her children. She was the first woman to earn a Masters degree in Physics from Fairleigh Dickinson University (New Jersey).

She edited and critiqued all of her late husband's 40 management books, providing keen insight and invaluable help, which Professor Drucker acknowledged in numerous book dedications. She was a gracious host to many of his consulting clients, who enjoyed coming to their homes. to socialize with Professor and Mrs. Drucker both. With Professor Drucker, she visited Japan many times, becoming enamored with – and knowledgeable about - Japanese art especially.

In the 1990's, Mrs. Drucker also founded RSQ LLC. As CEO, she invented, patented, and oversaw the manufacturing and marketing of a voice volume feedback device, called "Visivox", designed for public speakers.She wrote a memoir, "Invent Radium or I'll Pull Your Hair" (University of Chicago Press, 2004), about which the review in USA Today noted, "She has a terrific touch as a writer, making this a fast and absorbing read."

She also helped establish the Doris Drucker Chair in Global Management at Claremont Graduate University, and was awarded an Honorary Doctorate from CGU in 2001.

An avid tennis player, Mrs. Drucker joined the Claremont Club early in its existence, and played tennis there through her 100th birthday. She also enjoyed skiing, figure skating, and especially mountain climbing. She hiked in Rocky Mountain National Park for over 50 years, ultimately summitting almost every peak; and celebrated her 70th birthday with a trek in Nepal, reaching 16,000' elevation.

She volunteered as a driver for the American Red Cross in New Jersey, and, for over 20 years, for Meals on Wheels in Claremont; she was active in several Episcopal parishes in the Claremont area; and served on the Board of the Drucker Institute at Claremont Graduate University for nearly a decade.

Mrs. Drucker was known by her many, many friends as generous, helpful, pragmatic, funny, intelligent, and exceedingly caring. Neighbors report often receiving gifts of grapefruit jam, or lemons from a backyard tree, and her dinner parties were legendary. When she received an opportunity to view the launch of the Space Shuttle in Florida, she invited a neighbor's teenage child to come along with her and her grandsons on the trip, because she thought the young woman would enjoy seeing the launch too!

Mrs. Drucker is survived by her four children:
Kathleen Spivack of Watertown, MA;
J. Vincent Drucker (Wendy) of Mill Valley, CA;
Cecily Drucker, of Mill Valley, CA; and
Joan Winstein of Oak Park, IL., along with 6 grandchildren and 3 great-grandchildren.
She was preceded in death by her husband of 68 years, and one grandchild.