Practical Info
Venue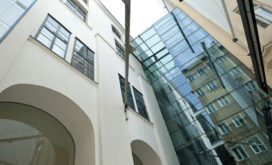 The Forum will be held in the splendid historic building of Aula Der Wissenschaften ("Hall of Sciences") at the old Vienna University – a 17th-century building equipped with modern infrastructure, bridging the past and the present
Right in Vienna city center with its hotels, restaurants, bars, underground carparks, cultural institutions and shopping areas
Few minutes' walk away from the Radisson BLU Palais (Forum preferred hotel)
Easily reachable: underground (lines U1, U3, U4), bus (1A, 74A), tram (line 2)

Dresscode for the Conference: Business

Aula der Wissenschaften «Hall of Sciences»
Wollzeile 27a, 1010 Vienna, Austria
http://aula-wien.at/en/aula
Gala Dinner

This year, the prestigious Gala dinner organized during the 3rd Global Drucker Forum will take place at the MAK Museum of Applied Arts/Contemporary Art on
Thursday 3rd November 2011 at 20.00 – 24.00.

Again it promises to be an unforgettable evening with a fine dining experience and international networking.


You will also have the opportunity to visit its unique arts collection and exhibitions.



Dresscode: elegant




Austrian Museum of Applied Arts/Contemporary Art
Stubenring 5 - 1010 Vienna (Austria)
www.MAK.at
Hotel/Accomodation
The Radisson BLU Palais (5-star) has been selected as the preferred hotel to enhance networking among Drucker Forum participants. The hotel is located within walking distance of the Forum venue and offers many amenities and room categories.


Parkring 16 A - 1010 Vienna, Austria
http://www.radissonblu.com/palaishotel-vienna
Vienna/Tourism Office
- Sightseeing
- Music & Stage Shows
- Shopping, Wining & Dining
- Lifestyle & Scene
… and more



Visit www.wien.info for information
Transportation/Plane
Vienna lies at the heart of Europe. Vienna International Airport VIE (Schwechat) is located outside the city limits and offers ideal connections to the rest of the world.

With Austrian Airlines you can fly non-stop to the Austrian capital several times a day. Book online now to make sure you get that low-cost Austrian redticket for your journey to Vienna.

Other airlines:
Transportation/Train

Austrian Federal Railways (ÖBB) offer a well developed railway network and modern trains that carry you to Vienna in safety and comfort. Vienna can also be easily reached by train from further afield.

Quickly find your train to Vienna:
Transportation/in Vienna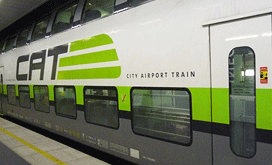 From Vienna-Schwechat Airport to the city center: Take the comfortable City Airport Train CAT to the city center in 16 minutes.

You can also take an official taxi at the airport, who will drive you directly to the center within 20-30 minutes (+/- EUR 30-35).
From CAT Train terminal (Landstrasse, Wien Mitte) to Radisson BLU Palais Hotel: Take the underground line U3 to the station Stubentor (1 stop) and walk on Parkring for about 800 meters.

Benefit from our special congress rates for your CAT tickets (city-airport) and bus passes:
Weather and Clothing
Vienna has a mild continental climate and is generally cold in November when the first snowfall of the year can be expected. Temperature in November is between 8 and 4 degrees Celsius.
We advise you to bring warm and windproof clothing to discover this beautiful city!

For up to date weather information visit

Exhibition
This year and for the first time, Forum participants will walk around exhibition booths and the book signing area during lunches and coffee breaks.

This is also an excellent opportunity to promote your products and/or services directly to the delegates.

If you are interested in becoming an exhibitor, please contact Sylvie Herman
sylvie.herman@druckersociety.eu
Credit Cards and Currency
All major credit cards (VISA, American Express and MasterCard) are accepted in most shops, hotels and restaurants.
It is advisable to carry an identity card or some form of photo identification.
The Euro (€) is the official currency of Austria.

Click here to convert your currency
Electricity Supply
Electricity supply is 220 volts/50Hz throughout Austria with "European" 2-pin type wall sockets. For any European or other countries that utilize 240 volts e.g. UK and Ireland electrical equipment will need a plug adapter to fit Austrian sockets.
Americans and Canadians with 110V equipment will need a plug adapter and a transformer to step up the voltage to 220 volts. These can be bought at any hardware store.
Passport and Visa Information

An identity card is sufficient for participants from EU-member countries. Other nationalities may require a visa* or a passport valid for a determinate period to enter the European Union. For specific information, please contact the Austrian Embassy of your country at least six weeks prior to your departure.

*The letter of invitation for visa application will only be delivered after payment of the registration fee.
Telephone
00 43 is the International Country Code for Austria
when dialing from abroad.
Local Time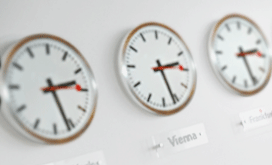 Time zone (from October 30th) is
Central European Time CET, i.e. UTC/GMT +1 hour
Language
The language in Austria is German but most
people speak fluent English.

PDF Download Full Practical Information