TikTok, Substack, Web3 - a whole new digital world is taking shape before our eyes, a world where the individual will have new and unprecedented opportunities to create, reach an audience, access markets, and make a living.
This is why the 13th Global Peter Drucker Challenge essay contest - an annual fixture in the run-up to the Global Peter Drucker Forum - chose as this year's topic: "Towards a Passion Economy - Creating Value With Your Unique Skills"
More than 350 students, young managers, and young entrepreneurs from 76 countries all over the world, and from impressively diverse personal backgrounds, professions, and cultures answered the call for essays.
A jury consisting of Elizabeth Edersheim, Jyoti Guptara, Ricardo Vargas, and Stefan Güldenberg selected the most insightful and original essays. No easy task, indeed a challenge, as the quality of the essays was very high.
Read and Meet
We invite you to read 30 essays on the Drucker Challenge website and to meet authors in person at the 2022 Global Peter Drucker Forum in Vienna on November 17-18 at the Vienna Hofburg in Austria. The Awards Ceremony evening event will take place on Nov. 17.
A big thank to all who took part in this year's essay contest but did not make it within the Top 15 per Category – your efforts are greatly appreciated! We encourage you to compete and try your luck again next year.
We wish to extend our congratulations to the laureates of this year's Drucker Challenge and in particular to the three first-placed authors.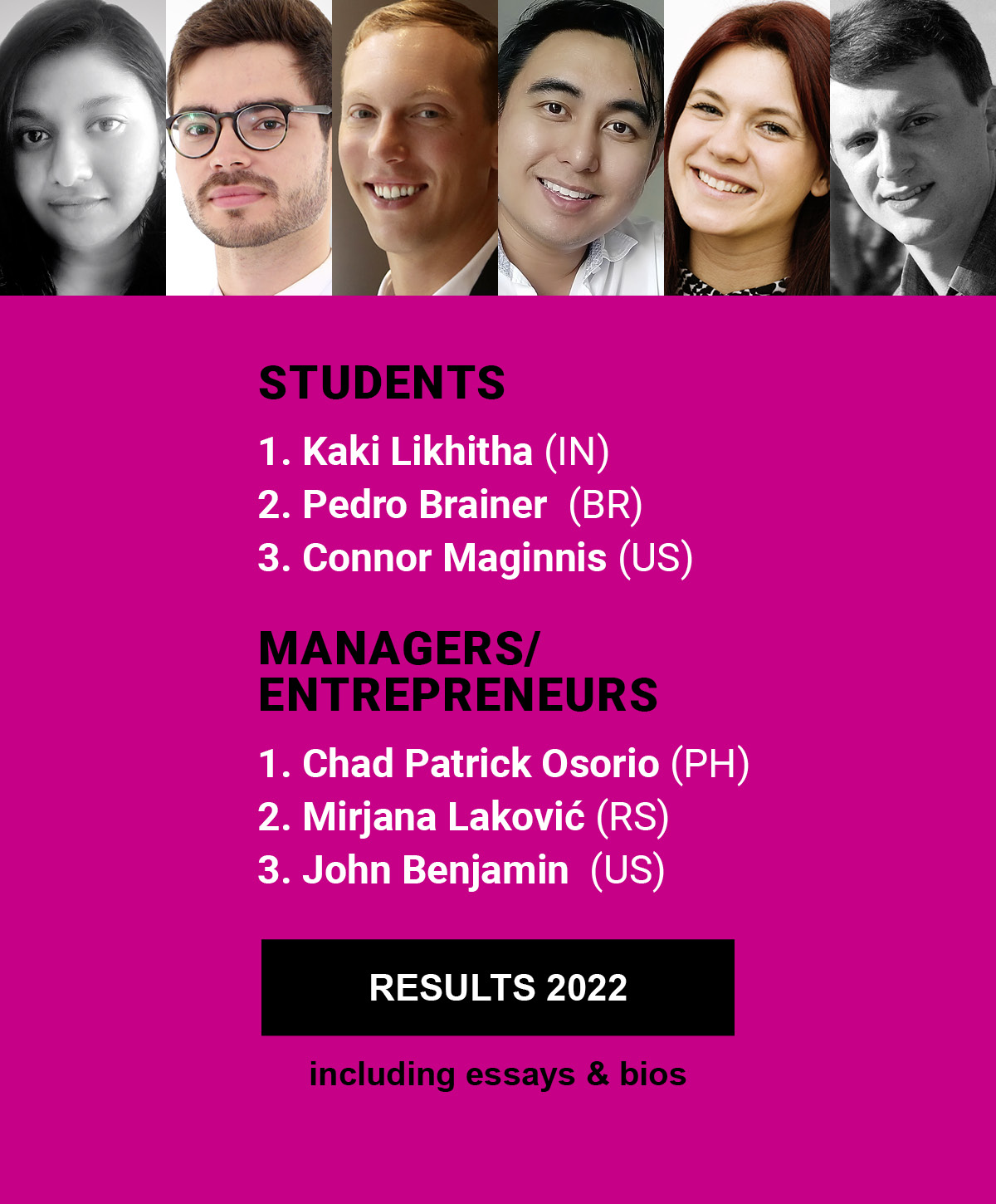 You have received this newsletter because you are
- a subscriber of the regular newsletter
- part of the Drucker Forum or Drucker Challenge Community
- you showed interest in Peter Drucker Society Europe's activities.
©️ Peter Drucker Society Europe 2022. All rights reserved.
Registered in Vienna, Austria. ZVR-Nr. 209806523