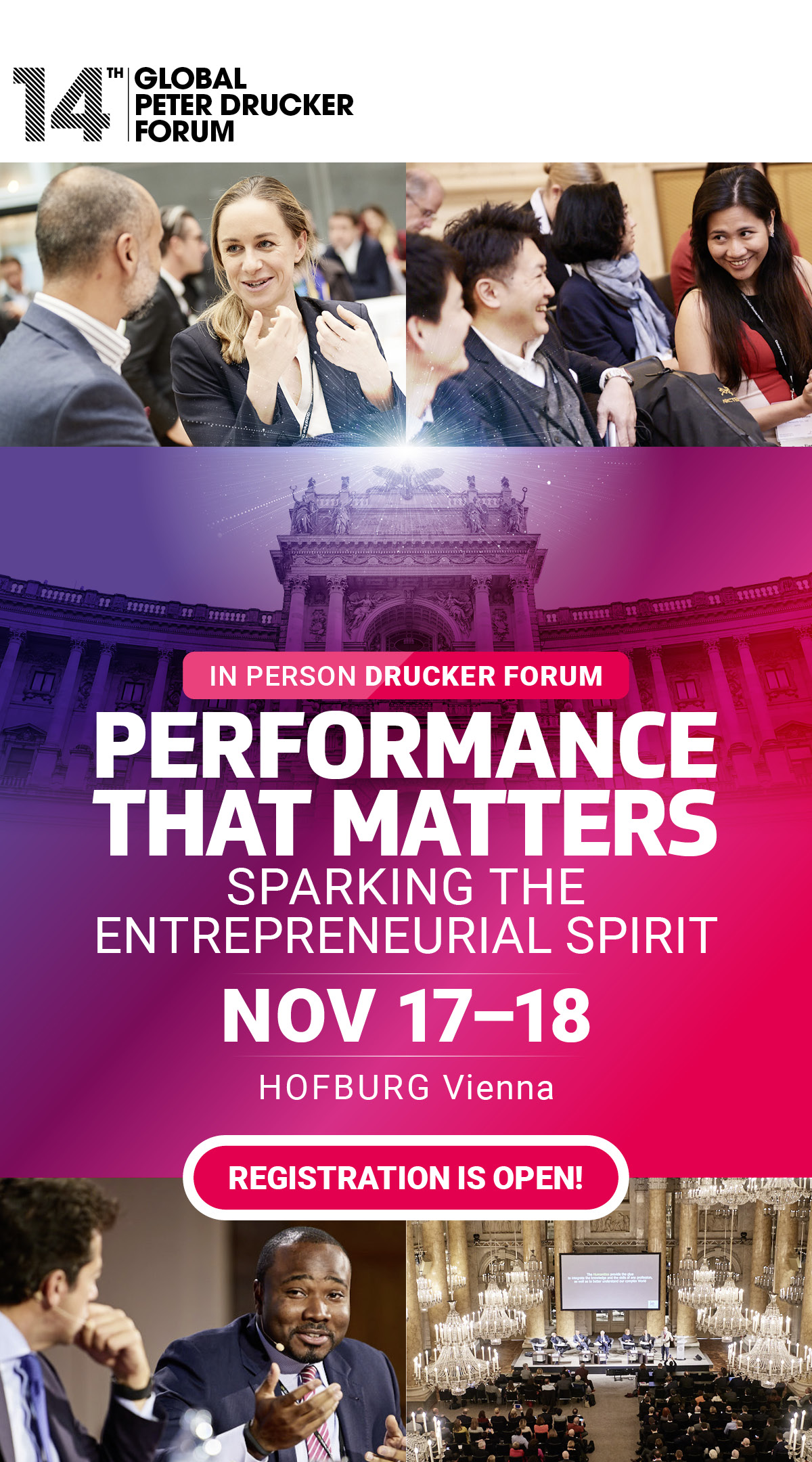 ---
When business as usual
won't do
The last two years changed everything. Let's use the shocks as a spur for a new entrepreneurial spirit to drive forward the management reinvention that we urgently need at every level. Tease out the future of management that has already arrived (Peter Drucker) at the in-person Drucker Forum on November 17 and 18 in Vienna. Let's ditch the standard narrative and official scripts and surface brand new ideas, pain points, inspiring messages, nonstarters, and think the unthinkable – under one theme: Performance that matters.
---
No simple answers
Stay curious for conversations with panels of top speakers on boosting performance in every sphere – societal, corporate, team and individual:
Does performance pay off? – Rebuilding meritocracy and access to personal prosperity

Performance: pain or pleasure? – How to rekindle "the spirit of

performance

E pluribus unum? – The potential and limits of diversity for performance

The performance revolution – How to bridge intergenerational performance conceptions
---
"Aha" moments included
Together, we'll forge new ways of thinking and doing. Exchange with thought leaders and experts across generations, industries, and institutions using interactive formats to create meaningful conversations. Absorb the inspiring surroundings of the Hofburg Palace and Vienna, recently ranked the world's most livable city – a place to make friends as well as to challenge your mind.
---
Come away better
prepared to...
Set priorities between economic, social, cultural and economic performance

Understand value creation in uncertainty
Address contentious matters of stakeholder capitalism, ESG and climate change
Work with multiple generations and backgrounds to create workplaces that are both fulfilling and high performing
Reassess effective ways of work organization to build in resilience in times of peril
Rethink talent management and digital transformation in the light of radical changes in the labor markets
Assess implications of the regionalization of the global economy for supply chains, HRM, and organization culture
Reenergize commitment to innovation and entrepreneurial spirit as necessary – not an alternative – to running a tight ship in crisis.
Shoot for the moon!
Recall Peter Drucker's insistence on performance and learn to think like him.

You have received this newsletter because you are
- a subscriber of the regular newsletter
- part of the Drucker Forum or Drucker Challenge Community
- you showed interest in Peter Drucker Society Europe's activities.
©️ Peter Drucker Society Europe 2022. All rights reserved.
Registered in Vienna, Austria. ZVR-Nr. 209806523