Last call for the Drucker Forum! Join us online on Nov. 17 and/or on-site on Nov. 18 + 19. Stay tuned for the Forum Drucker TV on Nov. 19.
It can't be either/or. Peter Drucker's vision of a functioning society enabled by effective organisations and institutions is the positive basis on which we urge technologists and humanists to join in constructive dialogue on 'the human imperative' – a future that is both digital and human, yet

always human first.

Our ambition: that the 13th GPDF mark

the

start

of this historic process.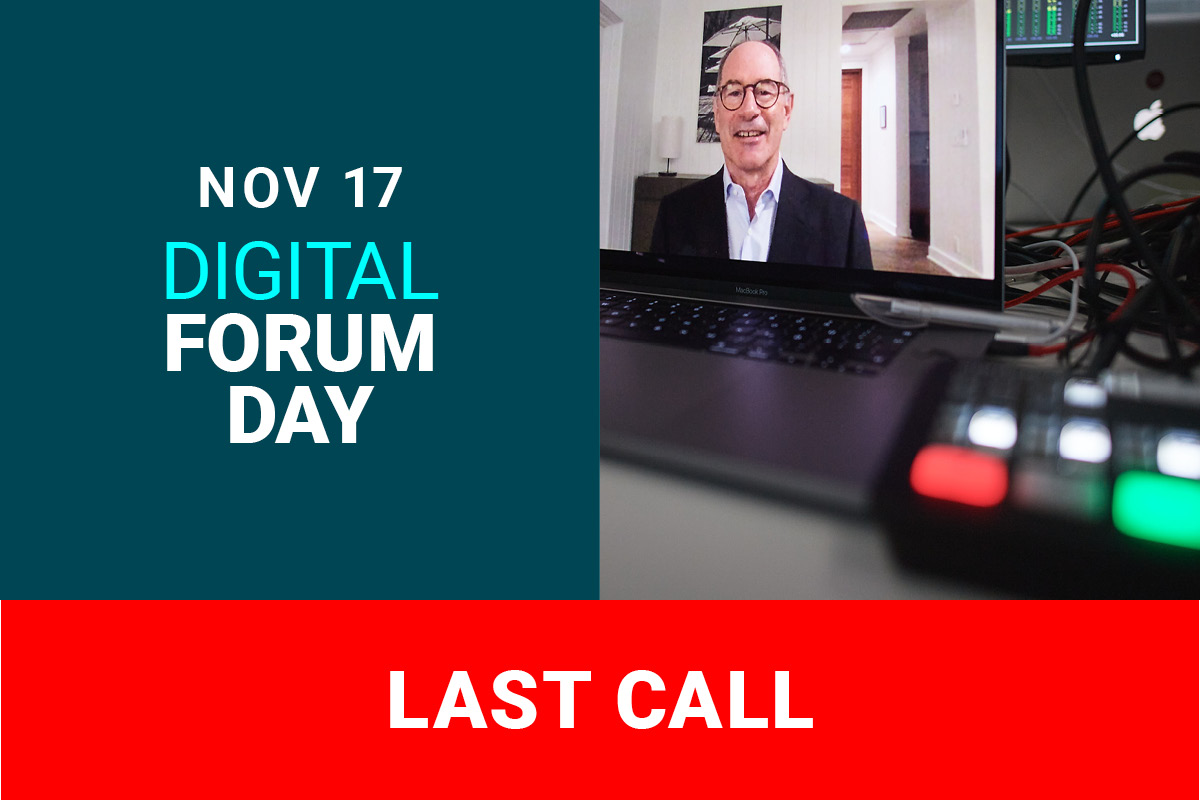 This is

the last call for enrolment in the Digital Forum Day on November 17. C

apacity for the Zoom-based sessions

is limited, so

we

urge you to register now. If you are unable to attend but would like another to do so in your place, please

forward this mailing.
We are

proud

to

put forward

a program of no less than 18 stimulating sessions

offering

choices

for all tastes, complemented by conversation lounges for follow-up meetings and networking. Yes, Thinkers Corner Dialogues are up again under the topic 'What Does it Mean to Put People at the Center', among others is Nand Kishore Chaudhary, social entrepreneur often referred to as 'Gandhi of the Carpet Industry'.
Select from topics like 'High Performance in the Digital Age' with Adrian Wooldridge and Andreas Rosenfelder – writers

well known for

their strong views.
You will be on Zoom with Behnam Tabrizi, transformation expert in conversation about 'Human Centered Innovation in Serving Citizens', and the need for better understanding of the

real-world complexity of human and natural environments.
Our longtime friend Rita McGrath will ask you 'How far have we come – and how much can we control?' on the panel 'Pushing the Envelope of Human Control'.
For widest possible coverage we have scheduled

parallel plenaries – eg

'Can Big Business be (Re)humanized?' or 'Surviving and Thriving in the entrepreneurial Society'. B

ut no

t to worry if they clash –

replays

(

available late

r) mean you can watch both in your own time.
For a full listing of all our outstanding speakers and hot topics, we invite you to

visit the

complete

program

here.
Here's your chance to grab

one of the last remaining seats

for the in-person Drucker Forum on Nov. 18 + 19 at the Hilton Stadtpark in Vienna. Reminder to participants: Austria's 2G+ rule applies, meaning you must be vaccinated or recovered from illness to attend a live event
plus
you will also have to present a valid PCR test, no older than 48 hours
.
The date of the test is valid, not the date of the result. Visit our special page.
The climax of the 2021

Drucker journey, the live Forum will kick off on the first afternoon with 'The Argument for a New Digital Humanism' with leading German philosopher and public intellectual Julian Nida-Rümelin, chaired by Helga Nowotny, founder and former president of the European Research Council.
On

Friday Nov. 19 – Peter Drucker's birthday! – a panel

with Singularity University's John Hagel will consider 'Putting Purpose at the Core', asking what makes a human organization in the digital age; while

Julia Kirby,

Senior Editor at Harvard University Press, will lead the

another through 'A World T

ransformed by AI, Big Data and Algorithms

'

in company with computer scientist and tech entrepreneur Erik J. Larson and '

Mr. Blockchain

'

Don Tapscott.
Common to both days will be opportunities for encounters and interactivity, both planned and random: the networking lounge, fireside chats with economist John Kay and others, and an 'unconference' where participants will be invited to think about 'One Question that puzzles me that I would like to explore with the community'. Look forward also to a co-creation project that will compile a list of '100 questions leaders should ask themselves to navigate uncertainty in the digital age', the outcomes of which will form the basis for a booklet. Ready to start creating?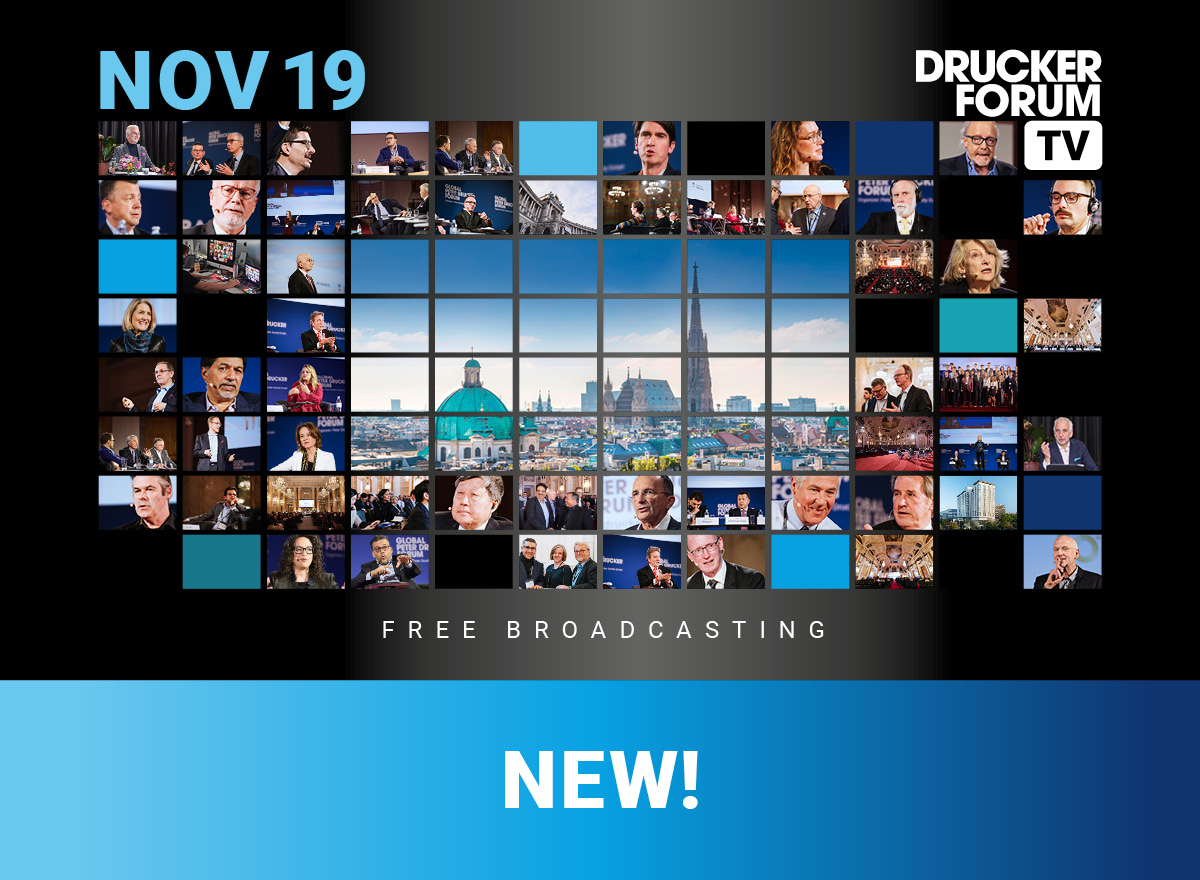 ---
New

this year is

a

Drucker Forum TV

channel, which will broadcast on Nov. 19. Broadcasts will include interviews with selected speakers from

Vienna, clips from the in-person Forum,

'

hidden treasures

' (clips from 12 years of the Drucker Forum) and best of A Day with Drucker earlier this year. Please note that here will be no live stream

coverage

of this year's Global Peter Drucker Forum.
---
Partner event – Roundtable
Lee Waller

(

HULT/EF – Corporate Education

) will conduct a live session on 'Inclusive L

eadership in the

Ne

w

W

orld of

W

ork'

– What does it mean to lead within the

new world of work and

what can

you do to ensure inclusive leadership?
---
To read on your way to the Forum
---
Online or in Vienna - we look forward to seeing you!

You have received this newsletter because you are
- a subscriber of the regular newsletter
- part of the Drucker Forum or Drucker Challenge Community
- you showed interest in Peter Drucker Society Europe's activities.
©️ Peter Drucker Society Europe 2021. All rights reserved.
Registered in Vienna, Austria. ZVR-Nr. 209806523