Yes, it's really

happening: the Drucker Forum is reconvening in Vienna in
November,

reasserting

our human need for live,

person-to-person

exchange.
Our dual approach offers flexible options: join us remotely for two digital days
(Nov. 10 + 17), and/or travel to Vienna (Nov. 18 + 19). Our recommendation:
book

the 'Total Drucker Experience'

embracing

all four days!
Programs are now finalised, all offering challenging

topics and great speakers
from

the

global Drucker community

under

the theme "The Human Imperative – Navigating Uncertainty In The Digital Age" – the common thread running through
all four days of the conference.
Together we'll work with ideas from renowned thinkers and leaders, and tackle the
biggest challenge and opportunity of a fast-digitizing world:

protecting and progressing

the
human imperative
. We look forward to
your support

!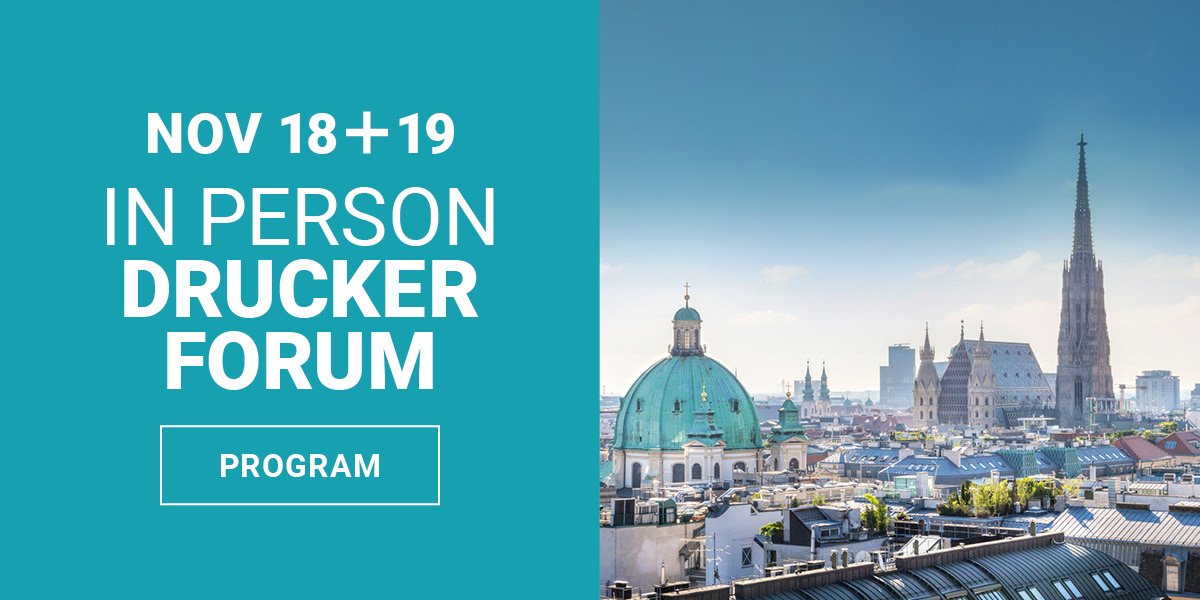 ---
In Vienna for digital humanism
and the real-world variety
As the community (this year regretf

ully limited to 300 places) gathers in Vienna for the In-Person Forum (Nov. 18 + 19), the discussions will take place within the context of

an introduction to
Digital Humanism
– a powerful

framework

for

defining

what must be achieved (and defended) as we move forward in the digital age. Day 2 of the in-person gathering will delve deeper into strategic, operational, and ethical challenges managers face now.
Speakers you will meet in Vienna include Julian Nida-Rümelin, philosopher and former

cultural minister for the Federal Republic of Germany

;

Margaret Heffernan

,

entrepreneur and professor

; theologian and philosopher Peter G. Kirchschläger of the University of Lucerne; James M. Loree, CEO of Stanley Black & Decker; founder of the Blockchain Research Institute and technology guru Don Tapscott; AI critic Erik J. Larson; Maurice Levy, president of the Publicis Group; and Mazars CEO

Hervé Helias

. All speakers.
T

ime to reflect and create
What you'll find

on site:

eager participant-driven small groups, possibility to participate in an

intriguing

co-creation

project

,

unrivalled professional networking opportunities,

potential

for fruitful partnerships and joint projects – both academic and commercial – and not

least community and friendship!
Official health and safety regulations as stipulated by

the City of Vienna and Austria will apply.

Please note that under rule 2G, to participate in the on-site Forum in Vienna you will need to prove you are fully vaccinated or are recovered from Covid-19.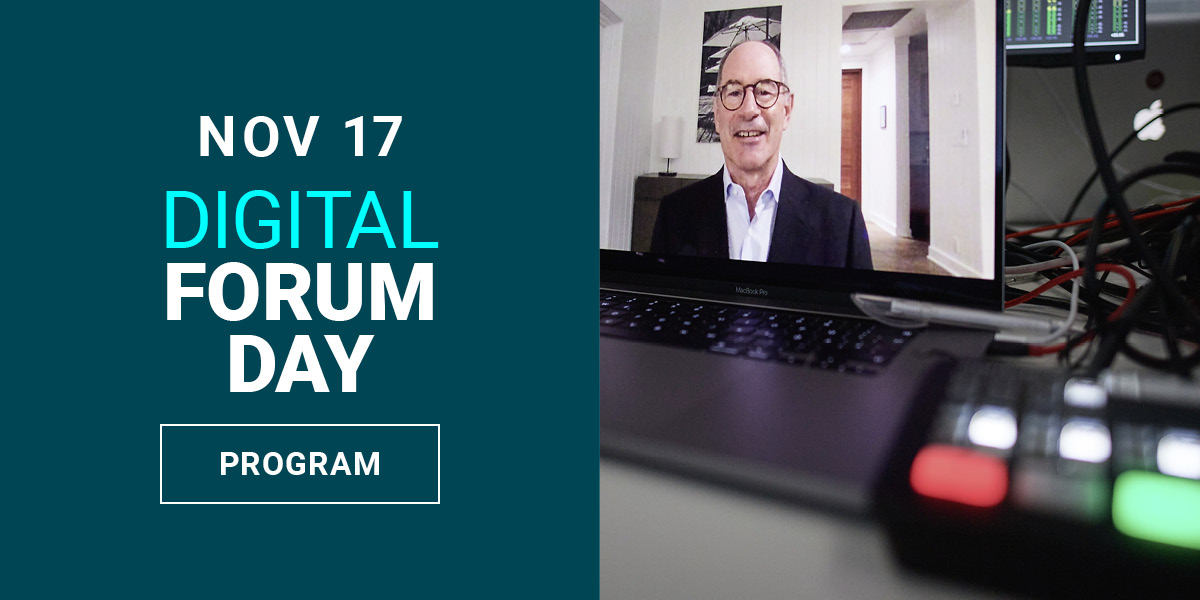 ---
Zoom in to the Digital Forum
Can business be (re)humanized, and how? How can smart leaders work with human emotions? Is it possible to turn large organisations into hotbeds of creativity and innovation?


We will address these and other major questions in more than 19 sessions at the Digital Forum Day (Nov. 17). You get the ability to pick and choose between sessions p

rogrammed to serve a global audience across many time zones. (Don't worry about mis

sing sessions: registration allows for all the video

replays

you wish!)
Amazing line-up of speakers

We are privileged to have attracted some of the very best minds for the digital-only part of the Forum. Join online risk researcher Gerd Gigerenzer, futurist Amy Webb, doyen of knowledge management, Ikujiro Nonaka, London Business School's noted Prof

Herminia Ibarra

,

Hubert Joly

,

former CEO of Best Buy now at Harvard Business School, and

Tiziana Casciaro, professor of Organizational Behavior and HR Management.
You can look forward to participating in discussions of quality and a lively chat – supported by professional hosting – plus plenty of opportunities to interact with speakers and other attendees in breakout sessions and our virtual 'lounges'.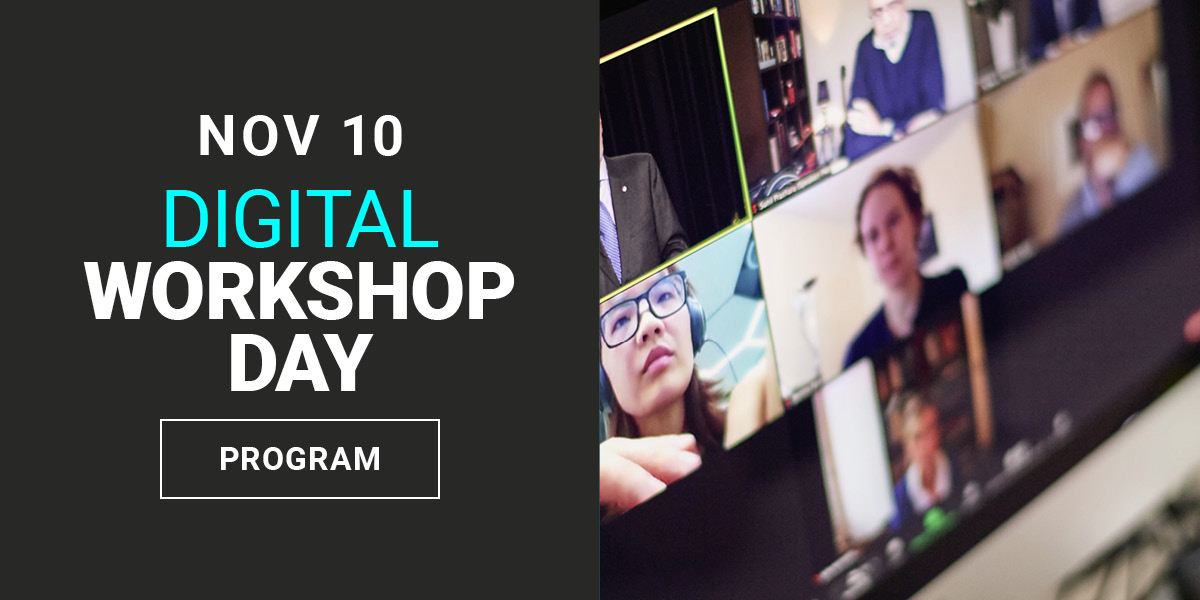 ---
Workshops redux
In-depth, interactive workshops are the focus of our

Digital Workshop Day

(Nov. 10),

during which

you can learn about social glue, entrepreneurship, digital trust and much more.
Zoom sessions feature among others legendary Pixar founder Ed Catmull and one of the world's most influential and iconoclastic business thinkers Gary Hamel. Beatriz Arantes (Steelcase), who specializes in the psychology of human emotions and behaviors will talk about how they relate to work and work environments. Liz Grennan (McKinsey & Company) will work with you on Digital Trust.
---
A novelty this year is the "Drucker Forum TV", which will broadcast on Nov. 19. Broadcasts will include interviews with selected speakers present in Vienna, clips from the in-person Forum, and replays of certain sessions from the Digital Forum Day. Please note: There will be no livestream coverage of this year's Global Peter Drucker Forum.
In the run-up to the Forum, check upcoming events by our partners on our new
partner event page
online.
Strategy@Work –

The Premier Conference For Those Who Transform
Concrete Love - The Making of Beautiful Business
A Big Bang by Kotler & Partners
Virtual Roundtable:

Thriving in the age of complexity: The human imperative.
You have received this newsletter because you are
- a subscriber of the regular newsletter
- part of the Drucker Forum or Drucker Challenge Community
- you showed interest in Peter Drucker Society Europe's activities.
©️ Peter Drucker Society Europe 2021. All rights reserved.
Registered in Vienna, Austria. ZVR-Nr. 209806523