Why join the Drucker Forum in 2020?
"This is a Drucker moment in world history", a long-time friend of the Drucker Forum tweeted recently – a time when overlapping crises are converging in a giant global challenge to form a perfect storm for management. Leaders everywhere are now called on to supply steadfast direction and purpose, while at the same time ensuring that urgent daily needs are met.

Anyone familiar with Peter Drucker's emphasis on management as a key element in a functioning society will appreciate what is at stake in this perilous situation. When we look for a path to the future the late Clayton Christensen – a wonderful friend and mentor to the Forum who alas died earlier this year – will be a guiding light. At the Drucker Forum 2020, his voice will still be heard – through executives and scholars who worked with him and were his friends. It will be our honor to celebrate Clay's legacy as we find inspiration in his work to reboot the stalled spirit of innovation and value creation.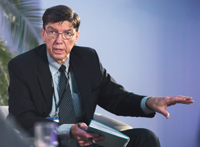 To confront the challenges the world is now facing, we invite you to join us in person or digitally for the Global Peter Drucker Forum 2020 – the most important gathering in our 12-year history.

Speakers and moderators confirmed for 2020 include

Alexandra Borchardt, Media Adviser and Journalist; Charles-Édouard Bouée, Founder and Managing Partner, Alpha Intelligence Capital; Jon Clifton, Global Managing Partner, Gallup; Donna Flynn, VP Workspace Futures, Steelcase; Margaret Heffernan, Entrepreneur; Lecturer, University of Bath School of Management England; Sabine Herlitschka, CEO & CTO, Infineon Technologies Austria; Barbara Kellerman, Lecturer in Public Leadership, Kennedy School, Harvard University; Roger L. Martin, Strategy Advisor, #1 Management Thinker; Miriam Meckel, Founding Publisher of ada, the platform for digital life and the economy of the future, at Handelsblatt Media Group; Paul Polman, Co-Founder IMAGINE, former CEO Unilever; Marie Ringler, Ashoka Europe Leader; Avivah Wittenberg-Cox, CEO of 20-first and many more….

The reformatted 2020 Drucker Forum will afford even greater opportunity to interact with speakers.
Membership – consider these new options

Responses to our community survey confirm that many of you would like to benefit from a bundle of benefits as formal members of the Drucker Society Europe (the nonprofit association that organizes the Global Peter Drucker Forum). Of the options proposed, most attractive were a discount on Forum registration, free access to the livestream, and unlimited access to the Forum video and audio library. Respondents also valued potential peer connections with other members of the Society.

We are happy to announce new membership options that reflect these priorities.

Basic annual membership, at € 75, now includes full access to the Drucker Forum livestream
Full annual membership, at € 150, includes a 30% discount off the full price of one Drucker Forum registration.