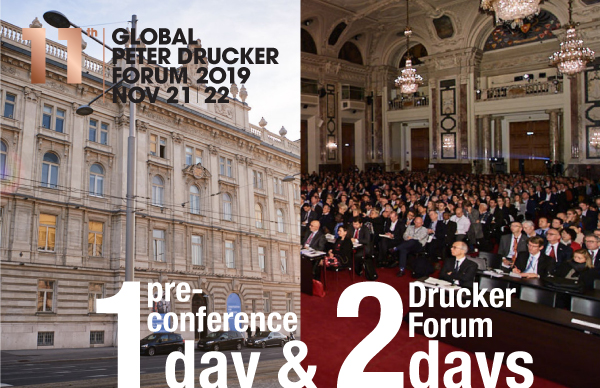 Drucker Forum and Pre-Conference – full programs online

Be part of a learning experience that will reshape the practice of management. Join with an inspiring group of thought leaders and business executives in a dialogue on the changing paradigm of management and its implications for you as a leader and manager.
Drucker Forum November 21 + 22
The full program with plenary, sessions, young generation luncheon and the gala dinner for the 2019 Drucker Forum "The Power of Ecosystems", taking place on November 21 and 22 in the Vienna Hofburg Palace, is now online.
Register online.

Pre-Conference November 20
The current pre-conference program with master classes, round tables and workshops will be held on November 20 in an intimate setting at the Austrian Federation of Industry and Vienna City Hall. It can be booked in conjunction with the Drucker Forum as a full-day extension or the afternoon only, and provides access to the speakers reception on November 20 at 6 pm. Register online.
Our blog series of one-page posts by members of the Drucker Forum community on the 2019 Forum theme is in full swing. Use it as a quick guide to key issues upcoming at the conference over the coming months.

See the latest entries here.
Drucker Forum @ Online Educa

Richard Straub will be a plenary keynote speaker at OEB, the global cross-sector conference and exhibition on techonology-supported learning and training.
Imprint

Peter Drucker Society Europe Registered Office: Thurngasse 13/18, 1090 Vienna, Austria
contact@druckersociety.eu
Click here to unsubscribe.