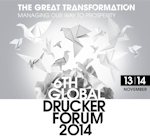 The registration for the 2014 Forum (November 13 & 14) is open!
If you would want to benefit from the Early Bird Discount (15%) register now. You will find the speakers list on www.druckerforum.org and the conference description under the following link.

The speakers include Clayton Christensen, Martin Wolf, Gary Hamel, Herminia Ibarra, Vineet Nayar and Pankaj Ghemawat. Conference chair will be Adi Ignatius, Editor in chief of Harvard Business Review.

5th Drucker Challenge Contest launched
The 2014 Peter Drucker Challenge Essay and Video Contest has been launched - providing the opportunity for the young generation to participate in the Drucker Forum. Due date for the essay contest is July 1 and for the video contest July 15. Please find detailed information about this year's theme and prizes on the website http://www.druckerchallenge.org/

Tweet Chat April 30, 5 PM to 6 PM CET (11 AM to 12 PM US EDT)
In the run-up to the 2014 Forum we will have our first Tweet Chat with Steve Denning, Management writer at Forbes; please see the description on the Drucker Forum Blog and join us online on April 30th, 5pm CET.

Your Drucker Forum Team

Please mark your calendar: Global Peter Drucker Forum – November 13 and 14, 2014.