Speakers Bios & Abstracts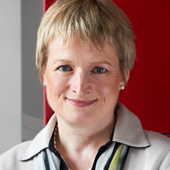 Rita Gunther McGrath
US
Associate Professor of Management
at Columbia Business School
Rita Gunther McGrath, a Professor at Columbia Business School, is a globally recognized expert on strategy in uncertain and volatile environments. Her thinking is highly regarded by readers and clients who include Pearson, Covidien, Coca-Cola Enterprises, General Electric, Alliance Boots, and the World Economic Forum. She is a popular instructor, a sought-after speaker, and a consultant to senior leadership teams. She was recognized as one of the top 10 management thinkers by global management award Thinkers50 in 2013, and won the award for outstanding achievement in the strategy category.

She's also been recognized as one of the top ten business school professors to follow on Twitter, and was named one of the 25 smartest women to follow on Twitter by Fast Company magazine. In 2009, she was inducted as a Fellow of the Strategic Management Society, an honor accorded those who have had a significant impact on the field. She serves as Dean of the Fellows. McGrath is the co-author of three books in addition to her brand new book The End of Competitive Advantage: How to Keep Your Strategy Moving as Fast As Your Business (Harvard Business Review Press).
The Quandary of Innovation
In an environment of transient, as opposed to sustainable, competitive advantages, it is obvious that getting the innovation process right is an imperative. Nonetheless, organizations struggle with the uncertainty, unpredictability and risks of innovation, with the consequence that the process becomes dysfunctional. To master innovation requires three distinct capabilities: ideation, or coming up with new ideas; incubation, or turning those ideas into a real business;
and acceleration, or advancing the fledgling business quickly into the marketplace.
This talk will cover what so often goes wrong and explore some possible remedies.