Speakers List 2012
Please check per speaker. You will find videos and presentations as far as agreed to be published.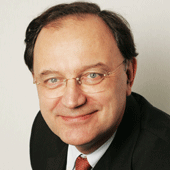 Patrick de Cambourg
FR
Chairman of the Mazars Group
A graduate in Political Sciences (Paris Institute of Political Studies 1971), also with a bachelor degree in Literature and a Master degree in Public and Civil Law, Patrick de Cambourg is a chartered accountant and statutory auditor.
Patrick de Cambourg begins his career with Mazars in 1974. He becomes a partner in 1978 and is senior partner (Chairman & CEO) from 1983 to 2011. Since December 2011, he is Chairman of the organisation, chairing its Governance Council and its Strategic Committee. As of today, the integrated global partnership founded in 1995 is present in 69 countries with 700 partners and 13000 professionals.
Patrick de Cambourg has a wealth of expertise in auditing and advisory services to multinational firms and works especially for companies within the banking and insurance sectors. He is a Knight of the Legion of Honour and an Officer of the National Order of Merit.