Speakers Bios & Abstracts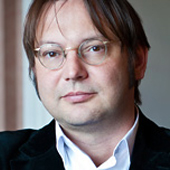 Stefan Thurner
AT
Professor for Science of Complex Systems at the Medical University of Vienna
and professor at the Santa Fe institute
Stefan Thurner is full professor for Science of Complex Systems at the Medical University of Vienna, where he heads the Section for Science of Complex Systems. Since 2007 he is external professor at the Santa Fe institute. Since 2010 he is also associated with IIASA, Laxenburg.

After his PhD in theoretical physics at the Technical University of Vienna in 1995 he held postdoc research positions at Humboldt Universität zu Berlin and Boston University before he joined the University of Vienna in 1999, and later Medical University. In 2001 he got a second PhD in economics at the University of Vienna, and his Habilitation in theoretical physics. About this time - strongly influenced by visits to the Santa Fe Institute - he began to shift his focus from theoretical physics to biological and complex systems, which are now his main areas of scientific work.

Thurner has published more than 140 scientific articles in fundamental physics, applied mathematics, complex systems, network theory, life sciences, econophysics, and lately in social sciences. He holds 2 patents.

Thurner has (co-) organized many international workshops, conferences and summerschools, and has himself presented about 150 talks. His work has received broad interest from the media such as the New York Times, BBC world, Nature, New Scientist, Physics World, and was featured in more than 300 newspaper, radio and television reports. He works in a network of scientists around the Santa Fe Institute. He was a fellow of the Collegium Budapest in 2007, and served an many European initiatives, FP projects, COST actions, where he serves as an Austrian delegate. Thurner serves as a member of several scientific and editorial boards.

Apart from science Thurner is active in quantitative financial consulting for institutions such as the OECD, in the fields of and systemic risk and automated trading. In 1993 he founded a non-professional chamber music group for which he still plays the clarinet.