Speakers Bios & Abstracts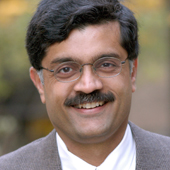 Venkat Ramaswamy
US
Hallman Fellow of Business & Professor of Marketing,
Ross School of Business
Venkat Ramaswamy is Hallman Fellow of Electronic Business and Professor of Marketing at the Ross School of Business, University of Michigan, Ann Arbor, USA. He is a globally recognized thought leader, idea practitioner, and eclectic scholar with wide-ranging interests in innovation, strategy, marketing, branding, IT, operations, and the human side of the organization.

He is a prolific author of numerous articles—including the popular 2000 Harvard Business Review article "Co-opting Customer Competence" and the 2003 MIT-PricewaterhouseCoopers award-winning Sloan Management Review article "The New Frontier of Experience Innovation" (both coauthored with C. K. Prahalad) as well as the 2009 Emerald Literati award-winning Strategy & Leadership article "Leading the Transformation to Co-Creation of Value", and the 2010 article in the Harvard Business Review on "Building the Co-Creative Enterprise, based on his new book The Power of Co-Creation: Build It With Them to Boost Growth, Productivity, and Profits (Free Press, October 2010; co-authored with Francis Gouillart).

His previous award-winning book in 2004, The Future of Competition (with C. K. Prahalad), introduced co-creation as a revolutionary business concept. Venkat is also a sought-after speaker and a mentor to global firms seeking to become a co-creative enterprise. He has helped several organizations across the United States, Europe, Asia, and Latin America conceive and execute new business ideas through co-creation, and build management capabilities for co-creation inside their organizations.
Managing Complexity through Co-Creation: Implications for Leadership
We are witnessing a fundamental structural shift in both the means and ends of value creation in society, which is manifesting itself as the increase in complexity of the environments we are all experiencing -- from goods and services that don't quite enable and/or connect with our human experiences on the one hand, to the organizational environments that create offerings on the other. We will discuss how leaders can manage complexity through a more expanded paradigm of value creation, "Co-Creation", which is about jointly creating and evolving value together with stakeholding individuals. The implications for leadership in building co-creative enterprises (whether private, public, or social), and their convergence on wealth- welfare-wellbeing and the economy and society of tomorrow, will be discussed.