Leading in uncertainty – back to Peter Drucker's wisdom
Caught in a web of confusion
We are living through an unprecedented situation of uncertainty and worry – about health, the economy and society. We appear to be caught in a web of constraints, contradictions and confusion spun by media, politicians, scientists and other experts.
Peter Drucker cautioned that care is needed in addressing tough problems and challenges: jumping to conclusions is the wrong approach. Today we need his voice of reason more than ever. And the
theme for the Drucker Forum 2020,
with its call for leadership at many levels, would seem to be very timely.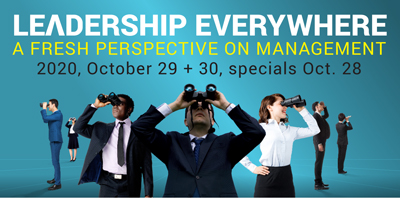 What does the crisis mean for the Drucker Forum?

At the Drucker Forum we are as hit by the general uncertainty as any other organization. Even as we expect an in-person gathering to be possible at the end of October and continue to plan on that basis, we anticipate restrictions in travel and social distancing measures for events.
For those who cannot participate in person we are preparing enhanced opportunities to participate remotely. We are holding virtual events in the run-up to the Forum – for example, see our recent executive round table on "Covid-19 and Leadership", moderated by Andrew Hill of the Financial Times and featuring a truly distinguished panel: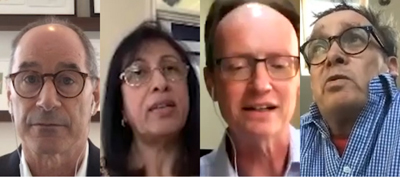 Strengthen the community with skin in the game

Over the years, a strong community has congregated around the Forum – including leading academics, practitioners, next-generation leaders and thousands of engaged participants. One way to take this community to the next level is through a membership approach with a menu of options for engaging with each other and enjoying a variety of benefits on an annual basis. As a non-profit organization for the common good, we plan to offer a basic membership and a full membership, each with its own set of benefits ranging from free live stream access to participation in the speakers' reception. For more information see the short survey that we invite to complete:
Your March survey responses

Last month's newsletter featured a survey on leadership in the current crisis. First, we asked you to cast your mind forward: A year from now, what do you expect to conclude about how political leaders handled the Covid-19 crisis? Your answers varied, with 41% predicting political leaders will have "managed to strike an appropriate balance between limiting the spread of the virus and stabilizing economies." But 32% thought it would turn out that leaders erred on the side of allowing too much Covid-19 sickness and death, and 19% thought the opposite: that political leaders would get the balance wrong, causing too much economic devastation. That makes a majority predicting our societies' leaders will get it wrong one way or another! (The remaining 8% of you think what political leaders do will ultimately "not matter nearly as much as other factors.")

We also asked about the kinds of input that should be given most weight when making decisions in crisis mode. See the chart below for results. "Experts" come out on top, followed by "data"—and "public opinion" ranks dead last: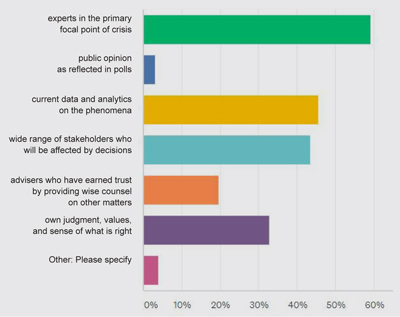 Finding fresh inspiration from Peter Drucker in times of crisis

Coming out of World War II, the worst catastrophe that global humanity had endured, Drucker recognized how fundamental it was to a functioning society to have well managed organizations and institutions. Joseph Schumpeter and Karl Polanyi were friends and great inspirations for Drucker as he began pointing the way toward more human-centric management within a capitalist system of constant innovation, entrepreneurship, and self-renewal. His flagship article on Schumpeter and Keynes can be accesses here:
Today's crisis is filled with stark reminders that organizations need excellent leadership to move in the right direction. Drucker taught us to think about issues deeply, not only calling for right answers but framing the right questions, and always considering the wider context in which solutions must work. He emphasized the need for ethical, commonsense judgment in tackling the kinds of complex questions we confront today. The worst thing, he reminded us, was to do very efficiently what shouldn't be done at all. In this time of turbulence we can reflect on Drucker's clear-sighted guidance, and rely on it more than ever. Find a series of nuggets of wisdom from Peter Drucker put together with holographic effects by the Drucker School in Claremont: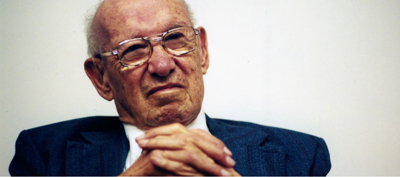 Registration for the 2020 Forum and subscription for membership will be announced in mid-May.

If you are active on Social Media please find us under our new Hashtag #DruckerForum - we'd be happy to engage and discuss online.

With best wishes
The Drucker Forum Team
You have received this newsletter because you are
- a subscriber of the regular newsletter
- part of the Drucker Forum or Drucker Forum Community
- you showed interest in Peter Drucker Society Europe's activities.
Terms of use & Privacy Policy
Peter Drucker Society Europe Registered Office: Thurngasse 13/18, 1090 Vienna, Austria
contact@druckersociety.eu
If you no longer wish to receive our newsletters,
unsubscribe here.