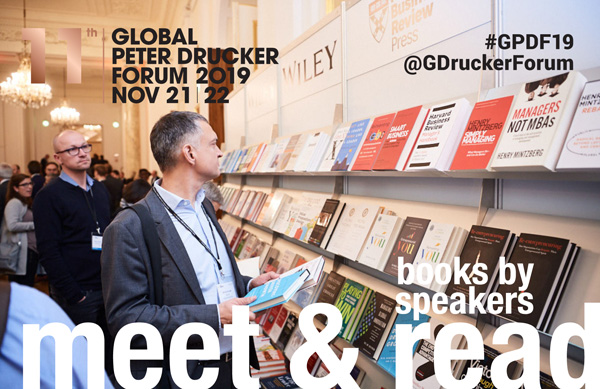 Last minute booking?

Registration

for the

11th Global Peter Drucker Forum

closes on November 15. Last places available on a first come – first served basis.

You may still book the

pre-conference day only

(November 20) i.e. the masterclasses in the morning or the full day with workshops and round tables in the afternoon including the speakers reception.

Register here for the pre-conference day only

.

Our High Touch

LIVE Stream

for the Forum may be booked until November 20.

Register LIVE Stream.

New Books by Speakers

This newsletter highlights the books that have been published by Forum speakers since the Forum 2018. Our bookstore partner

Facultas

will make those available at their bookstore in the Hofburg Palace along with many more that have earlier publication dates.
Amy C. Edmonson
The Fearless Organization
Creating Psychological Safety in the Workplace for Learning, Innovation, and Growth

The overwhelming message of Amy's book is this: leadership calls us to create workplaces where people feel safe to share ideas and mistakes are embraced as opportunities to learn. Build an organization free of fear and watch remarkable things happen. Not only is it the right thing to do, it's the ultimate competitive advantage!
Bob Chapman, CEO of Barry-Wehmiller

Hal Gregersen
Questions Are The Answer
A Breakthrough Approach to Your Most Vexing Problems at Work and in Life.


Hal Gregersen is one of those rare educators who always practices what he preaches. Deliberately, he pushes himself out of his comfort zones, and consistently, he surfaces those great questions that unlock better answers. I think it's wonderful that, with Questions Are the Answer, he is equipping so many more people to do the same.
Clayton M. Christensen, Kim B. Clark Professor of Business Administration at Harvard Business School
Rahaf Harfoush
Hustle and Float
Reclaim Your Creativity and Thrive in a World Obsessed with Work

This is a must-read for entrepreneurs and creatives who want to keep their flame lit. Also makes a perfect gift to share with the go-getters in your life!
Amazon Customer

Andrew Hill
Ruskinland
How John Ruskin Shapes Our World (The Lives of the Artists)

A glimpse into a vast and marvellous country.
Spectator
A thoughtful book on why we need Ruskin now.
Financial Times
Wolfgang Lassl
The Viability of Organizations
Vol. 1: Decoding the "DNA" of Organizations
Vol. 2: Diagnosing and Governing Organizations

Using the Viable System Model (VSM) as a framework, this three-volume compendium volume offers readers a new and comprehensive perspective on organizations and how they function beyond the organizational chart. Moreover, it equips readers with a rigorous methodology for analyzing organizations and addressing deepseated organizational dysfunctions, while also showing them how to redesign their structures and develop better and more tailor-made solutions.

Rita McGrath
Seeing Around Corners
How to Spot Inflection Points in Business Before They Happen

At IDEO, we have been helping clients see what their future could be for decades. I'm excited that we now have such a human, entertaining, and thoughtful guide to explain why it is so important to get ready for the next inflection point. There is not a leader or organization that won't benefit from diving into this splendid book.
Tim Brown, Chair of IDEO
Whitney Johnson
Disrupt Yourself, With a New Introduction Master Relentless Change and Speed Up Your Learning Curve

Whitney Johnson has applied 'disruption' to understand why some individuals succeed in remarkable ways.
Enjoyed this book!
Clayton M. Christensen, Kim B. Clark Professor of Business Administration, Harvard Business School

Art Kleiner, Jeffrey Schwartz, Josie Thomson
Wise Advocate
The Inner Voice of Strategic Leadership

The Wise Advocate is a key book for aspiring leaders aiming to make the best – and hardest – choices. The authors provide a practical guide to decision making through a combination of neuroscience concepts, a process of self-reflection, and consideration of the greatest good for the people one must lead.
Marshall Goldsmith, Business Educator and Excecutive Coach
Alexander Osterwalder, David J. Bland
Testing Business Ideas

In the tradition of the global bestseller Business Model Generation, this practical guide contains a library of hands-on techniques for rapidly testing new business ideas.

Jennifer Petriglieri
Couples That Work
How Dual-Career Couples Can Thrive in Love and Work

Jennifer Petriglieri provides an elegantly simple yet profoundly insightful road map to the predictable transitions all couples traverse. Through her in-depth research and engrossing stories of couples of all ages, she reveals how each transition can be understood and embraced, leading to a more meaningful relationship and career – for both parties. It's a definite must-read for any dualcareer couple.
Herminia Ibarra, Professor of Organizational Behavior, London Business School
Megan Reitz, John Higgins
Speak Up
Say what needs to be said and hear what needs to be heard

A powerful book on an important topic. Speak Up helps us understand the subtle elements that contribute to our holding back valuable ideas and observations. Their TRUTH framework – which is as practical as it is rigorous – identifies essential elements to help individuals find their voice.
Amy Edmondson, Professor, Harvard Business School

Raj Sisodia, Michael J. Gelb

The Healing Organization
Awakening the Conscience of Business to Help Save the World

Sisodia and Gelb raise the question if it is possible for businesses to make a profit and be socially responsible. Their answer is that it is actually more profitable and long term sustainable for businesses to operate with a conscience than just a desire for profits.
John Chancellor, published on Amazon
The Big Nine
How the Tech Titans and Their Thinking Machines Could Warp Humanity

Rather than questioning the character of thinking machines, futurist Amy Webb turns a critical eye on the humans behind the computers. With AI's development overwhelmingly driven by nine tech powerhouses, she asks: Is it possible for the technology to serve the best interests of everyone?

Wired

Arthur Yeung, Dave Ulrich

Reinventing the Organization
How Companies Can Deliver Radically Greater Value in Fast-Changing Markets

Ulrich and Yeung have identified a new way of thinking about organizations, as market-oriented ecosystems that will help all of us thrive in a fast-changing environment.
Sandy Ogg, founder, CEO.works
You have received this newsletter because you are
- a subscriber of the regular newsletter
- part of the Drucker Forum Community
- you showed interest in Peter Drucker Society Europe's activities.

Our Privacy Policy
Peter Drucker Society Europe Registered Office: Thurngasse 13/18, 1090 Vienna, Austria
contact@druckersociety.eu
Click here to unsubscribe.