Speakers Bios & Abstracts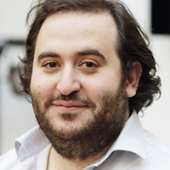 Oussama Ammar
UK
Serial entrepreneur
Co-Founder, TheFamily
A traveller who feels at home anywhere he goes, from Paris to São Paulo to San Francisco, Oussama Ammar remembers each time he set out to make something new – all the way back to when he won his first computer at age 10 and started learning how to code.
As a teenager, he was building online platforms for antique shops in his hometown; as a university student, he floated between law, philosophy, and the social sciences before deciding that school just wasn't for him. After a stint working in Hong Kong, he founded Hypios, a firm dedicated to solving complex R&D problems, but eventually the difficulties of building it into a viable business led him to settle in Silicon Valley and start putting together investment deals for other entrepreneurs.

Now, his goal at TheFamily is to find those founders who are able to put their results above their intelligence, those who seek big markets with big problems, and those who are capable of building empires, and he knows that any single idea is just an infinitesimal part of doing that.